CONSUMPTIVE USE OF IRRIGATION WATER
IN WYOMING
III. CONSUMPTIVE IRRIGATION REQUIREMENT

Calculated Consumptive Irrigation Requirement of Crops at Wyoming Weather Stations
Table IV, following the report narrative is a print of the computer output for the calculated consumptive irrigation requirement. The monthly consumptive irrigation requirement, associated basic weather data, and consumptive use coefficients are given for each crop for each Weather Bureau station. The seasonal consumptive irrigation requirement is listed. Seasonal or part seasonal values of temperature, precipitation, effective precipitation, consumptive use, and consumptive irrigation requirement can be obtained from the Table.

Variability of Consumptive Irrigation Requirement
The map following this page - Average Seasonal Consumptive Irrigation Requirement for Grass - shows the variation of seasonal consumptive irrigation requirement for the most widely grown irrigated crop in Wyoming. Lawn grass and irrigated pastures are not always considered to be irrigated crops, but certainly grass consumes irrigation water. Thus, the values indicated on the map have a value to city dwellers as well as farmers and ranchers.

Use of Data The calculated values contained herein should be useful to planners and conservationists for a multitude of purposes. Estimates of the amount of irrigation water consumed in various areas of Wyoming can be made. The data should assist planners in the design of both large and small irrigation projects. If diversions for irrigation and the areas irrigated are known, the irrigation efficiency can be calculated. Diversion requirements can be determined if irrigated areas and irrigation efficiency are known or estimated.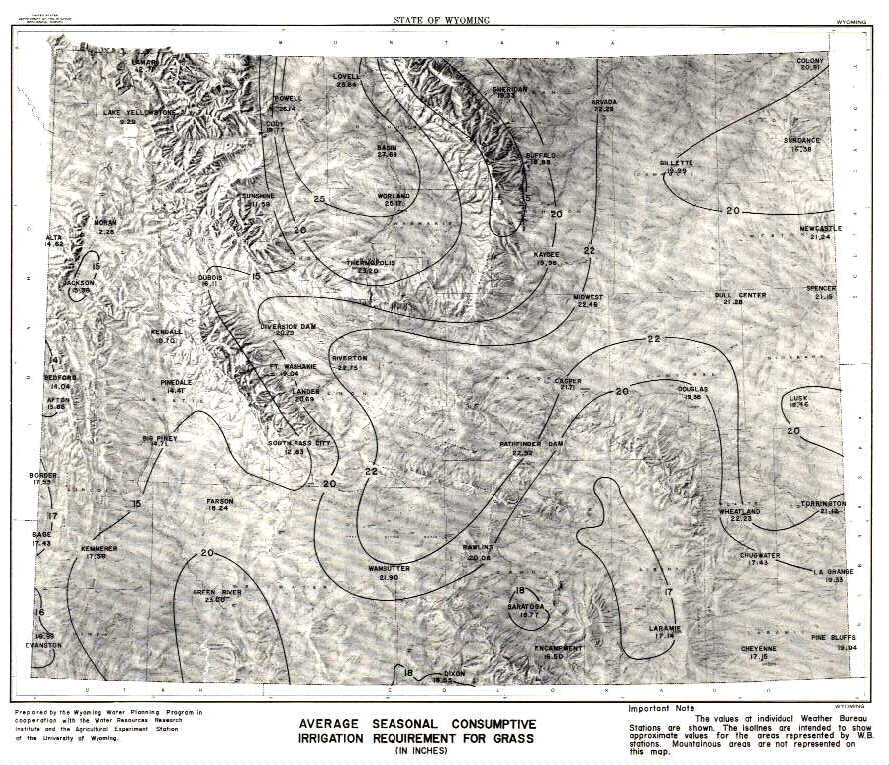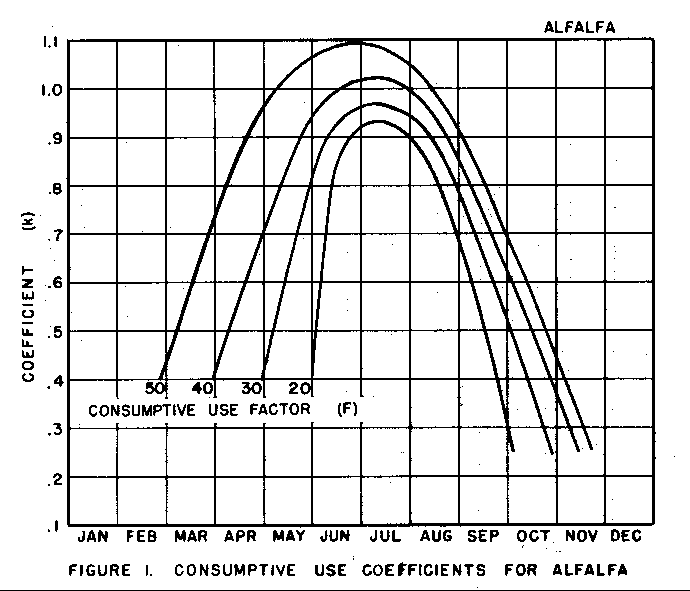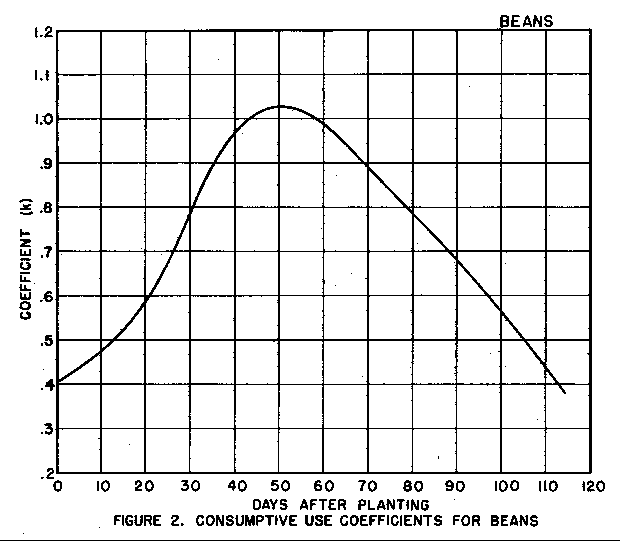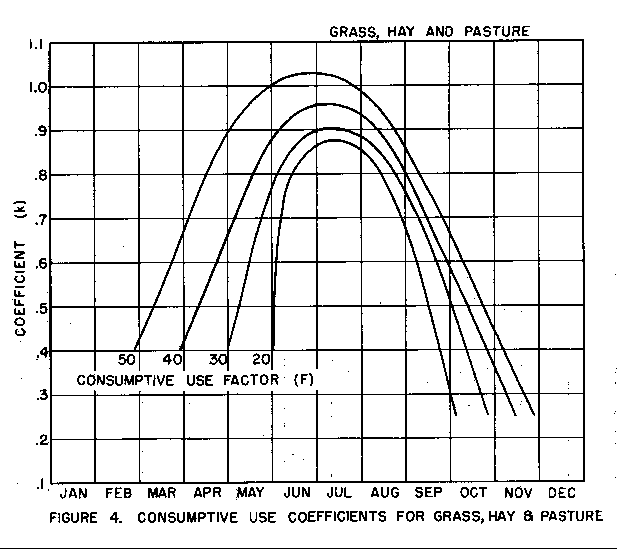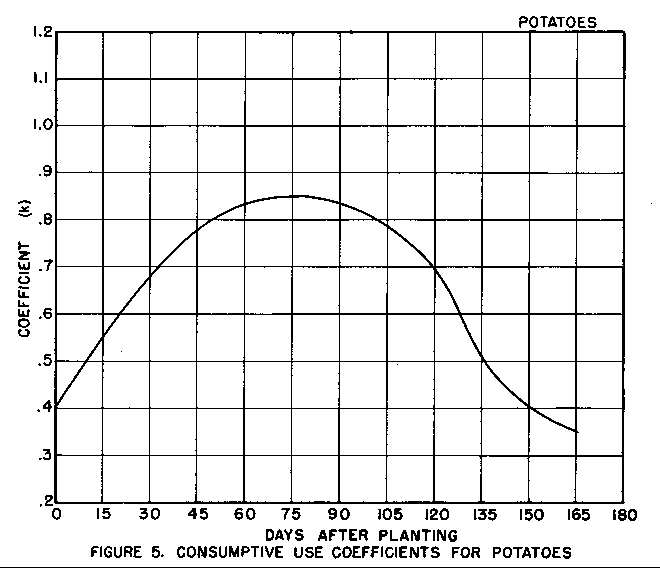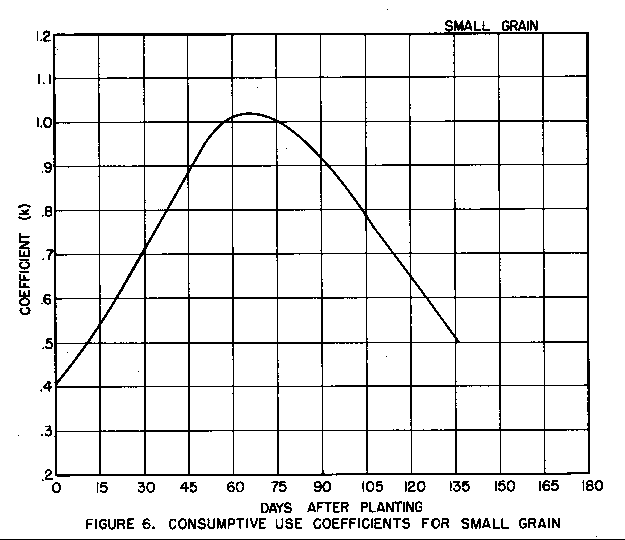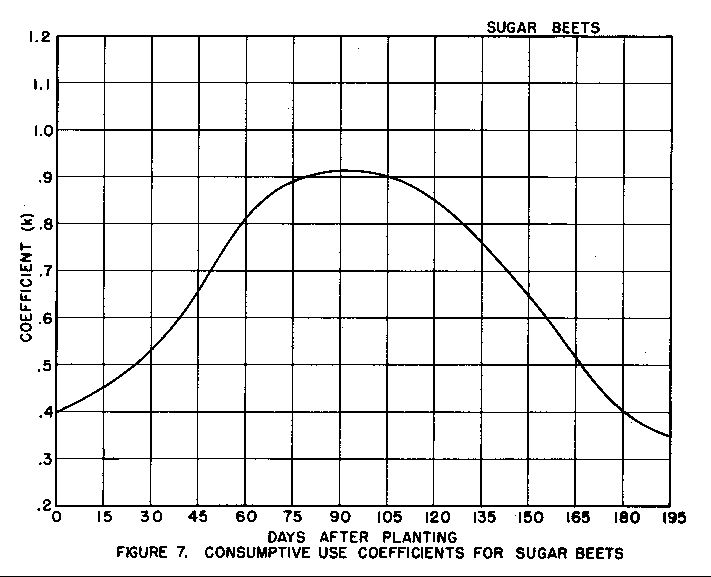 TABLE IV
	                 CALCULATED CONSUMPTIVE IRRIGATION REQUIREMENTS
	                     OF CROPS AT WYOMING WEATHER STATIONS



				                  AFTON
	LATITUDE 42-44		       LONGITUDE 110-56	          ELEVATION 6210

   MONTH       MEAN	 DAYTIME  FACTOR COEFFICIENT  CONSUMPTIVE   MEAN    EFFECTIVE  CONSUMPTIVE
              MONTHLY	  HOURS		                 USE       MONTHLY  RAINFALL   IRRIGATION
            TEMPERATURE					           RAINFALL            REQUIREMENT
                (T)        (P)      (F)      (K)         (CU)	    (R)      (RE)       (CU-RE)
ALFALFA
   APRIL        37         9.01    3.34      .40         .45       1.52      1.42          .00
   MAY          48        10.18    4.89      .61        2.99       1.95      1.81         1.18
   JUNE         53        10.29    5.46      .90        4.91       1.96      1.82         3.10
   JULY         60        10.40    6.24      .93        5.81       1.06      1.01         4.80
   AUGUST       59         9.65    5.70      .87        4.96       1.05      1.00         3.96
   SEPTEMBER    52         8.40    4.37      .66        2.89       1.15      1.09         1.80
   OCTOBER      42         7.68    3.23      .38         .91       1.53      1.43          .00
                                           SEASONAL CONSUMPTIVE IRRIGATION REQUIREMENT   14.87
GRASS, HAY, AND PASTURE
   APRIL        37         9.01    3.34      .40         .45       1.52      1.42          .00
   MAY          48        10.18    4.89      .57        2.79       1.95      1.81          .99
   JUNE         53        10.29    5.46      .84        4.59       1.96      1.82         2.77
   JULY         60        10.40    6.24      .90        5.62       1.06      1.01         4.62
   AUGUST       59         9.65    5.70      .83        4.73       1.05      1.00         3.74
   SEPTEMBER    52         8.40    4.37      .65        2.84       1.15      1.09         1.76
   OCTOBER      42         7.68    3.23      .35         .84       1.53      1.43          .00
                                           SEASONAL CONSUMPTIVE IRRIGATION REQUIREMENT   13.88
SMALL GRAIN
   APRIL        37         9.01    3.34      .49        1.09       1.52      1.42          .00
   MAY          48        10.18    4.89      .76        3.72       1.95      1.81         1.91
   JUNE         53        10.29    5.46      .99        5.40       1.96      1.82         3.59
   JULY         60        10.40    6.24      .88        5.50       1.06      1.01         4.49
                                           SEASONAL CONSUMPTIVE IRRIGATION REQUIREMENT   10.01


				                  ALTA 1NNW
	LATITUDE 43-46		       LONGITUDE 111-02          ELEVATION 6431

   MONTH       MEAN	 DAYTIME  FACTOR COEFFICIENT  CONSUMPTIVE   MEAN    EFFECTIVE  CONSUMPTIVE
              MONTHLY	  HOURS		                 USE       MONTHLY  RAINFALL   IRRIGATION
            TEMPERATURE				                   RAINFALL            REQUIREMENT
                (T)        (P)      (F)      (K)        (CU)	    (R)       (RE)      (CU-RE)
ALFALFA
   APRIL        38         9.05    3.44      .42         .39       1.48      1.39          .00
   MAY          48        10.24    4.92      .63        3.10       2.04      1.89         1.22
   JUNE         54        10.38    5.61      .91        5.11       2.29      2.09         3.02
   JULY         63        10.47    6.60      .97        6.40        .94       .90         5.51
   AUGUST       61         9.70    5.92      .88        5.21       1.19      1.13         4.09
   SEPTEMBER    53         8.41    4.46      .68        3.04       1.28      1.21         1.83
   OCTOBER      44         7.65    3.37      .39         .94       1.48      1.39          .00
                                           SEASONAL CONSUMPTIVE IRRIGATION REQUIREMENT   15.69
GRAS, HAY, AND PASTURE
   APRIL        38         9.05    3.44      .41         .38       1.48      1.39          .00
   MAY          48        10.24    4.92      .60        2.95       2.04      1.89         1.07
   JUNE         54        10.38    5.61      .85        4.77       2.29      2.09         2.68
   JULY         63        10.47    6.60      .91        6.01        .94       .90         5.11
   AUGUST       61         9.70    5.92      .84        4.98       1.19      1.13         3.85
   SEPTEMBER    53         8.41    4.46      .69        3.08       1.28      1.21         1.88
   OCTOBER      44         7.65    3.37      .36         .86       1.48      1.39          .00
                                           SEASONAL CONSUMPTIVE IRRIGATION REQUIREMENT   14.62
SMALL GRAIN
   APRIL        38         9.05    3.44      .49        1.04       1.48      1.39          .00
   MAY          48        10.24    4.92      .76        3.74       2.04      1.89         1.86
   JUNE         54        10.38    5.61      .99        5.55       2.29      2.09         3.47
   JULY         63        10.47    6.60      .88        5.81        .94       .90         4.92
                                           SEASONAL CONSUMPTIVE IRRIGATION REQUIREMENT   10.25


                                           ARVADA 3N
	LATITUDE 44-42	               LONGITUDE 106-06          ELEVATION 3680

   MONTH       MEAN	 DAYTIME  FACTOR COEFFICIENT  CONSUMPTIVE  MEAN    EFFECTIVE  CONSUMPTIVE
              MONTHLY	  HOURS		                 USE      MONTHLY  RAINFALL   IRRIGATION
            TEMPERATURE					          RAINFALL            REQUIREMENT
                (T)        (P)      (F)      (K)        (CU)	    (R)      (RE)       (CU-RE)
ALFALFA
   APRIL        45         9.07    4.09      .57        2.10       1.08      1.03         1.08
   MAY          55        10.29    5.66      .82        4.65       2.02      1.87         2.78
   JUNE         63        10.44    6.58      .98        6.45       2.76      2.48         3.98
   JULY         72        10.54    7.59     1.02        7.75       1.02       .97         6.78
   AUGUST       71         9.74    6.92      .93        6.44        .92       .88         5.56
   SEPTEMBER    59         8.42    4.97      .74        3.68       1.02       .97         2.71
   OCTOBER      49         7.63    3.74      .49        1.84        .69       .66         1.18
                                           SEASONAL CONSUMPTIVE IRRIGATION REQUIREMENT   24.07
BEANS
   MAY          55        10.29    5.66      .49        1.70       2.02      1.87          .00
   JUNE         63        10.44    6.58      .78        5.14       2.76      2.48         2.66
   JULY         72        10.54    7.59      .91        6.91       1.02       .97         5.94
   AUGUST       71         9.74    6.92      .63        4.36        .92       .88         3.49
                                           SEASONAL CONSUMPTIVE IRRIGATION REQUIREMENT   12.10
CORN
   MAY          55        10.29    5.66      .49        2.60       2.02      1.87          .73
   JUNE         63        10.44    6.58      .72        4.74       2.76      2.48         2.27
   JULY         72        10.54    7.59      .97        7.37       1.02       .97         6.40
   AUGUST       71         9.74    6.92      .99        6.85        .92       .88         5.98
   SEPTEMBER    59         8.42    4.97      .86        4.28       1.02       .97         3.31
                                           SEASONAL CONSUMPTIVE IRRIGATION REQUIREMENT   18.69
GRASS, HAY, AND PASTURE
   APRIL        45         9.07    4.09      .54        1.99       1.08      1.03          .97
   MAY          55        10.29    5.66      .78        4.42       2.02      1.87         2.55
   JUNE         63        10.44    6.58      .93        6.12       2.76      2.48         3.65
   JULY         72        10.54    7.59      .95        7.21       1.02       .97         6.25
   AUGUST       71         9.74    6.92      .88        6.09        .92       .88         5.22
   SEPTEMBER    59         8.42    4.97      .70        3.48       1.02       .97         2.51
   OCTOBER      49         7.63    3.74      .48        1.80        .69       .66         1.14
                                           SEASONAL CONSUMPTIVE IRRIGATION REQUIREMENT   22.29
SMALL GRAIN
   MARCH        32         8.29    2.66      .43         .23        .61       .58          .00
   APRIL        45         9.07    4.09      .62        2.54       1.08      1.03         1.51
   MAY          55        10.29    5.66      .90        5.10       2.02      1.87         3.23
   JUNE         63        10.44    6.58      .97        6.38       2.76      2.48         3.91
   JULY         72        10.54    7.59      .73        5.54       1.02       .97         4.58
                                           SEASONAL CONSUMPTIVE IRRIGATION REQUIREMENT   13.24
SUGAR BEETS
   APRIL        45         9.07    4.09      .42         .75       1.08      1.03          .00
   MAY          55        10.29    5.66      .53        3.00       2.02      1.87         1.14
   JUNE         63        10.44    6.58      .78        5.14       2.76      2.48         2.66
   JULY         72        10.54    7.59      .91        6.91       1.02       .97         5.94
   AUGUST       71         9.74    6.92      .85        5.88        .92       .88         5.01
   SEPTEMBER    59         8.42    4.97      .66        3.28       1.02       .97         2.32
   OCTOBER      49         7.63    3.74      .49         .60        .69       .66          .38
                                           SEASONAL CONSUMPTIVE IRRIGATION REQUIREMENT   17.46


                                            BASIN
	LATITUDE 44-23	               LONGITUDE 108-03          ELEVATION 3837

   MONTH       MEAN	 DAYTIME  FACTOR COEFFICIENT CONSUMPTIVE   MEAN    EFFECTIVE  CONSUMPTIVE
              MONTHLY	  HOURS		                USE       MONTHLY  RAINFALL   IRRIGATION
            TEMPERATURE					          RAINFALL            REQUIREMENT
                (T)        (P)      (F)      (K)        (CU)	    (R)      (RE)       (CU-RE)
ALFALFA
   MARCH        35         8.29    2.91      .40         .12        .33       .32          .00
   APRIL        48         9.06    4.35      .56        2.44        .72       .69         1.76
   MAY          58        10.27    5.96      .84        5.01       1.03       .98         4.03
   JUNE         66        10.41    6.88      .98        6.74       1.14      1.08         5.66
   JULY         74        10.51    7.78     1.02        7.94        .55       .53         7.42
   AUGUST       72         9.72    7.00      .93        6.51        .30       .29         5.23
   SEPTEMBER    61         8.41    5.14      .74        3.00        .65       .62         3.18
   OCTOBER      49         7.63    3.74      .50        1.87        .48       .46         1.42
   NOVEMBER     32         6.48    2.08      .34         .08        .36       .35          .04
                                           SEASONAL CONSUMPTIVE IRRIGATION REQUIREMENT   29.75
BEANS
   MAY          58         9.06    5.26      .52        2.12       1.03       .98         1.14
   JUNE         66        10.27    6.78      .85        5.77       1.14      1.08         4.69
   JULY         74        10.41    7.71      .89        6.86        .55       .53         6.34
   AUGUST       72        10.51    7.57      .57        4.32        .30       .29         4.03
                                           SEASONAL CONSUMPTIVE IRRIGATION REQUIREMENT   16.21
CORN
   APRIL        48         9.06    4.35      .41         .30        .72       .69          .00
   MAY          58        10.27    5.96      .52        3.10       1.03       .98         2.13
   JUNE         66        10.41    6.88      .77        5.30       1.14      1.08         4.22
   JULY         74        10.51    7.78      .98        7.63        .55       .53         7.10
   AUGUST       72         9.72    7.00      .96        6.72        .30       .29         6.44
   SEPTEMBER    61         8.41    5.14      .75        3.85        .65       .62         3.24
                                           SEASONAL CONSUMPTIVE IRRIGATION REQUIREMENT   23.13
GRASS, HAY, AND PASTURE
   MARCH        35         8.29    2.91      .41         .16        .33       .32          .00
   APRIL        48         9.06    4.35      .55        2.40        .72       .69         1.71
   MAY          58        10.27    5.96      .78        4.65       1.03       .98         3.67
   JUNE         66        10.41    6.88      .92        6.33       1.14      1.08         5.25
   JULY         74        10.51    7.78      .95        7.39        .55       .53         6.87
   AUGUST       72         9.72    7.00      .87        6.09        .30       .29         5.81
   SEPTEMBER    61         8.41    5.14      .70        3.60        .65       .62         2.98
   OCTOBER      49         7.63    3.74      .48        1.80        .48       .46         1.34
   NOVEMBER     32         6.48    2.08      .35         .08        .36       .35          .04
                                           SEASONAL CONSUMPTIVE IRRIGATION REQUIREMENT   27.69
POTATOES
   MAY          58         9.06    5.26      .48        1.14       1.03       .98          .17
   JUNE         66        10.27    6.78      .68        4.61       1.14      1.08         3.54
   JULY         74        10.41    7.71      .82        6.32        .55       .53         5.80
   AUGUST       72        10.51    7.57      .82        6.21        .30       .29         5.93
   SEPTEMBER    61         9.72    5.93      .66        3.92        .65       .62         3.30
                                           SEASONAL CONSUMPTIVE IRRIGATION REQUIREMENT   18.74
SMALL GRAIN
   MARCH        35         8.29    2.91      .47         .62        .33       .32          .31
   APRIL        48         9.06    4.35      .68        2.96        .72       .69         2.28
   MAY          58        10.27    5.96      .94        5.60       1.03       .98         4.63
   JUNE         66        10.41    6.88      .95        6.53       1.14      1.08         5.46
   JULY         74        10.51    7.78      .72        5.60        .55       .53         5.08
                                           SEASONAL CONSUMPTIVE IRRIGATION REQUIREMENT   17.76
SUGAR BEETS
   APRIL        48         9.06    4.35      .43        1.19        .72       .69          .51
   MAY          58        10.27    5.96      .56        3.34       1.03       .98         2.36
   JUNE         66        10.41    6.88      .80        5.50       1.14      1.08         4.43
   JULY         74        10.51    7.78      .91        7.08        .55       .53         6.56
   AUGUST       72         9.72    7.00      .83        5.81        .30       .29         5.53
   SEPTEMBER    61         8.41    5.14      .63        3.24        .65       .62         2.62
   OCTOBER      49         7.63    3.74      .45         .55        .48       .46          .40
                                           SEASONAL CONSUMPTIVE IRRIGATION REQUIREMENT   22.41


                                           BEDFORD
	LATITUDE 42-52	               LONGITUDE 110-54          ELEVATION 6325

   MONTH       MEAN	 DAYTIME  FACTOR COEFFICIENT  CONSUMPTIVE  MEAN    EFFECTIVE  CONSUMPTIVE
              MONTHLY	  HOURS		                 USE      MONTHLY  RAINFALL   IRRIGATION
            TEMPERATURE					          RAINFALL            REQUIREMENT
                (T)        (P)      (F)      (K)	(CU)	    (R)      (RE)       (CU-RE)
ALFALFA
   APRIL        38         9.01    3.43      .40         .42       1.67      1.56          .00
   MAY          48        10.18    4.89      .61        2.99       2.13      1.96         1.03
   JUNE         54        10.30    5.57      .90        5.01       2.08      1.92         3.10
   JULY         61        10.41    6.36      .97        6.16        .93       .89         5.28
   AUGUST       60         9.66    5.80      .87        5.05       1.04       .99         4.06
   SEPTEMBER    53         8.40    4.46      .66        2.94       1.26      1.19         1.76
   OCTOBER      43         7.67    3.30      .40        1.03       1.58      1.48          .00
                                           SEASONAL CONSUMPTIVE IRRIGATION REQUIREMENT   15.24
GRASS, HAY, AND PASTURE
   APRIL        38         9.01    3.43      .40         .42       1.67      1.56          .00
   MAY          48        10.18    4.89      .59        2.89       2.13      1.96          .93
   JUNE         54        10.30    5.57      .85        4.73       2.08      1.92         2.82
   JULY         61        10.41    6.36      .90        5.72        .93       .89         4.84
   AUGUST       60         9.66    5.80      .82        4.76       1.04       .99         3.77
   SEPTEMBER    53         8.40    4.46      .64        2.85       1.26      1.19         1.67
   OCTOBER      43         7.67    3.30      .38         .94       1.57      1.47          .00
                                           SEASONAL CONSUMPTIVE IRRIGATION REQUIREMENT   14.04
SMALL GRAIN
   APRIL        38         9.01    3.43      .49        1.09       1.67      1.56          .00
   MAY          48        10.18    4.89      .76        3.72       2.13      1.96         1.76
   JUNE         54        10.30    5.57      .99        5.51       2.08      1.92         3.60
   JULY         61        10.41    6.36      .88        5.59        .93       .89         4.71
                                           SEASONAL CONSUMPTIVE IRRIGATION REQUIREMENT   10.08


                                          BIG PINEY
	LATITUDE 42-32	               LONGITUDE 110-07          ELEVATION 6821

   MONTH       MEAN	 DAYTIME  FACTOR COEFFICIENT  CONSUMPTIVE  MEAN    EFFECTIVE  CONSUMPTIVE
              MONTHLY	  HOURS		                 USE      MONTHLY  RAINFALL   IRRIGATION
            TEMPERATURE						  RAINFALL            REQUIREMENT
                (T)        (P)      (F)      (K)	 (CU)	    (R)      (RE)       (CU-RE)
ALFALFA
   APRIL        36         9.00    3.24      .40         .22        .85       .81          .00
   MAY          45        10.16    4.58      .55        2.52       1.33      1.25         1.27
   JUNE         53        10.27    5.45      .90        4.90       1.11      1.05         3.85
   JULY         59        10.38    6.13      .96        5.88        .74       .71         5.18
   AUGUST       56         9.64    5.40      .86        4.65        .91       .87         3.78
   SEPTEMBER    48         8.40    4.04      .64        2.59        .93       .89         1.70
   OCTOBER      38         7.69    2.93      .43         .41        .66       .63          .21
                                           SEASONAL CONSUMPTIVE IRRIGATION REQUIREMENT   16.01
GRASS, HAY, AND PASTURE
   APRIL        36         9.00    3.24      .40         .22        .85       .81          .00
   MAY          45        10.16    4.58      .53        2.43       1.33      1.25         1.18
   JUNE         53        10.27    5.45      .82        4.47       1.11      1.05         3.42
   JULY         59        10.38    6.13      .89        5.46        .74       .71         4.75
   AUGUST       56         9.64    5.40      .82        4.43        .91       .87         3.57
   SEPTEMBER    48         8.40    4.04      .61        2.46        .93       .89         1.58
   OCTOBER      38         7.69    2.93      .41         .40        .66       .63          .20
                                           SEASONAL CONSUMPTIVE IRRIGATION REQUIREMENT   14.71
SMALL GRAIN
   APRIL        36         9.00    3.24      .47         .79        .85       .81          .00
   MAY          45        10.16    4.58      .70        3.21       1.33      1.25         1.96
   JUNE         53        10.27    5.45      .98        5.34       1.11      1.05         4.29
   JULY         59        10.38    6.13      .92        5.64        .74       .71         4.94
                                           SEASONAL CONSUMPTIVE IRRIGATION REQUIREMENT   11.19


                                        BORDER 3N
	LATITUDE 42-15	               LONGITUDE 111-02         ELEVATION 6120

   MONTH       MEAN	 DAYTIME  FACTOR COEFFICIENT  CONSUMPTIVE  MEAN    EFFECTIVE  CONSUMPTIVE
              MONTHLY	  HOURS		                 USE      MONTHLY  RAINFALL   IRRIGATION
            TEMPERATURE					          RAINFALL            REQUIREMENT
                (T)        (P)      (F)      (K)	(CU)	    (R)      (RE)       (CU-RE)
ALFALFA
   APRIL        38         9.00    3.42      .41         .61       1.13      1.07          .00
   MAY          48        10.14    4.87      .65        3.17       1.30      1.22         1.95
   JUNE         55        10.26    5.65      .92        5.20       1.28      1.21         3.99
   JULY         63        10.36    6.53      .97        6.34        .77       .74         5.60
   AUGUST       61         9.63    5.88      .89        5.23        .82       .78         4.45
   SEPTEMBER    53         8.40    4.46      .68        3.03        .84       .80         2.23
   OCTOBER      43         7.69    3.31      .44        1.08       1.17      1.11          .27
                                           SEASONAL CONSUMPTIVE IRRIGATION REQUIREMENT   18.51
GRASS, HAY, AND PASTURE
   APRIL        38         9.00    3.42      .43         .64       1.13      1.07          .00
   MAY          48        10.14    4.87      .66        3.22       1.30      1.22         2.00
   JUNE         55        10.26    5.65      .87        4.91       1.28      1.21         3.71
   JULY         63        10.36    6.53      .91        5.94        .77       .74         5.21
   AUGUST       61         9.63    5.88      .84        4.94        .82       .78         4.16
   SEPTEMBER    53         8.40    4.46      .66        2.94        .84       .80         2.15
   OCTOBER      43         7.69    3.31      .42        1.39       1.17      1.11          .29
                                           SEASONAL CONSUMPTIVE IRRIGATION REQUIREMENT   17.53
SMALL GRAIN
   APRIL        38         9.00    3.42      .51        1.36       1.13      1.07          .29
   MAY          48        10.14    4.87      .81        3.95       1.30      1.22         2.73
   JUNE         55        10.26    5.65     1.00        5.65       1.28      1.21         4.45
   JULY         63        10.36    6.53      .84        5.94        .77       .74         4.76
                                           SEASONAL CONSUMPTIVE IRRIGATION REQUIREMENT   12.22


                                          BUFFALO
	LATITUDE 44-21	               LONGITUDE 106-41         ELEVATION 4645

   MONTH       MEAN	 DAYTIME  FACTOR COEFFICIENT  CONSUMPTIVE  MEAN    EFFECTIVE  CONSUMPTIVE
              MONTHLY	  HOURS		                 USE      MONTHLY  RAINFALL   IRRIGATION
            TEMPERATURE					          RAINFALL            REQUIREMENT
                (T)        (P)      (F)      (K)	(CU)	    (R)      (RE)       (CU-RE)
ALFALFA
   APRIL        43         9.06    3.90      .52        1.63       1.83      1.70          .00
   MAY          52        10.27    5.35      .79        4.22       2.32      2.12         2.11
   JUNE         62        10.41    6.46      .97        6.27       2.32      2.12         4.15
   JULY         69        10.51    7.26     1.01        7.33       1.37      1.29         6.05
   AUGUST       67         9.72    6.52      .90        5.87        .96       .92         4.95
   SEPTEMBER    57         8.41    4.80      .72        3.46       1.12      1.06         2.40
   OCTOBER      46         7.63    3.51      .48        1.69        .95       .91          .79
                                           SEASONAL CONSUMPTIVE IRRIGATION REQUIREMENT   20.46
BEANS
   MAY          52        10.27    5.35      .42         .29       2.32      2.12          .00
   JUNE         62        10.41    6.46      .66        4.26       2.32      2.12         2.15
   JULY         69        10.51    7.26      .97        7.04       1.37      1.29         5.76
   AUGUST       67         9.72    6.52      .76        4.95        .96       .92         4.04
                                           SEASONAL CONSUMPTIVE IRRIGATION REQUIREMENT   11.96
CORN
   MAY          52        10.27    5.35      .48        2.15       2.32      2.12          .04
   JUNE         62        10.41    6.46      .70        4.52       2.32      2.12         2.41
   JULY         69        10.51    7.26      .96        6.97       1.37      1.29         5.68
   AUGUST       67         9.72    6.52      .99        6.45        .96       .92         5.54
   SEPTEMBER    57         8.41    4.80      .80        3.84       1.12      1.06         2.78
                                           SEASONAL CONSUMPTIVE IRRIGATION REQUIREMENT   16.46
GRASS, HAY, AND PASTURE
   APRIL        43         9.06    3.90      .52        1.63       1.82      1.69          .00
   MAY          52        10.27    5.35      .75        4.01       2.32      2.12         1.90
   JUNE         62        10.41    6.46      .91        5.88       2.32      2.12         3.77
   JULY         69        10.51    7.26      .94        6.82       1.37      1.29         5.54
   AUGUST       67         9.72    6.52      .86        5.61        .96       .92         4.69
   SEPTEMBER    57         8.41    4.80      .69        3.31       1.12      1.06         2.25
   OCTOBER      46         7.63    3.51      .46        1.62        .95       .91          .72
                                           SEASONAL CONSUMPTIVE IRRIGATION REQUIREMENT   18.88
SMALL GRAIN
   MARCH        34         8.29    2.82      .41         .12        .97       .93          .00
   APRIL        43         9.06    3.90      .56        2.19       1.83      1.70          .49
   MAY          52        10.27    5.35      .89        4.76       2.32      2.12         2.65
   JUNE         62        10.41    6.46      .97        6.27       2.32      2.12         4.15
   JULY         69        10.51    7.26      .77        5.59       1.37      1.29         4.31
                                           SEASONAL CONSUMPTIVE IRRIGATION REQUIREMENT   11.60
SUGAR BEETS
   APRIL        43         9.06    3.90      .41        1.60       1.83      1.70          .00
   MAY          52        10.27    5.35      .51        2.73       2.32      2.12          .62
   JUNE         62        10.41    6.46      .75        4.85       2.32      2.12         2.73
   JULY         69        10.51    7.26      .90        6.53       1.37      1.29         5.25
   AUGUST       67         9.72    6.52      .87        5.67        .96       .92         4.76
   SEPTEMBER    57         8.41    4.80      .70        3.36       1.12      1.06         2.30
   OCTOBER      46         7.63    3.51      .53         .61        .95       .91          .31
                                           SEASONAL CONSUMPTIVE IRRIGATION REQUIREMENT   15.98


                                          CASPER AP
	LATITUDE 42-55	               LONGITUDE 106-28         ELEVATION 5338

   MONTH       MEAN	 DAYTIME  FACTOR COEFFICIENT  CONSUMPTIVE  MEAN    EFFECTIVE  CONSUMPTIVE
              MONTHLY	  HOURS		                 USE      MONTHLY  RAINFALL   IRRIGATION
            TEMPERATURE				                  RAINFALL            REQUIREMENT
                (T)        (P)      (F)      (K)	(CU)	    (R)      (RE)       (CU-RE)
ALFALFA
   APRIL        43         9.02    3.88      .49        1.40       1.69      1.58          .00
   MAY          53        10.19    5.41      .80        4.33       2.03      1.88         2.45
   JUNE         63        10.31    6.50      .97        6.31       1.25      1.18         5.13
   JULY         72        10.42    7.51     1.00        7.51       1.00       .95         6.56
   AUGUST       70         9.66    6.77      .92        6.23        .72       .69         5.54
   SEPTEMBER    60         8.40    5.04      .72        3.63        .90       .86         2.78
   OCTOBER      48         7.67    3.69      .48        1.77        .84       .80          .97
   NOVEMBER     34         6.56    2.24      .34         .06        .71       .68          .01
                                           SEASONAL CONSUMPTIVE IRRIGATION REQUIREMENT   23.45
CORN
   MAY          53        10.19    5.41      .47        1.97       2.03      1.88          .10
   JUNE         63        10.31    6.50      .67        4.36       1.25      1.18         3.18
   JULY         72        10.42    7.51      .95        7.13       1.00       .95         6.18
   AUGUST       70         9.66    6.77      .99        6.70        .72       .69         6.02
   SEPTEMBER    60         8.40    5.04      .82        4.14        .90       .86         3.28
                                           SEASONAL CONSUMPTIVE IRRIGATION REQUIREMENT   18.76
GRASS, HAY, AND PASTURE
   APRIL        43         9.02    3.88      .52        1.48       1.69      1.58          .00
   MAY          53        10.19    5.41      .75        4.06       2.03      1.88         2.18
   JUNE         63        10.31    6.50      .91        5.92       1.25      1.18         4.74
   JULY         72        10.42    7.51      .94        7.06       1.00       .95         6.11
   AUGUST       70         9.66    6.77      .86        5.82        .72       .69         5.14
   SEPTEMBER    60         8.40    5.04      .69        3.48        .90       .86         2.63
   OCTOBER      48         7.67    3.69      .46        1.70        .84       .80          .90
   NOVEMBER     34         6.56    2.24      .32         .05        .71       .68          .01
                                           SEASONAL CONSUMPTIVE IRRIGATION REQUIREMENT   21.71
SMALL GRAIN
   MARCH        32         8.30    2.66      .40         .42       1.03       .98          .00
   APRIL        43         9.02    3.88      .56        2.18       1.69      1.58          .61
   MAY          53        10.19    5.41      .89        4.81       2.03      1.88         2.94
   JUNE         63        10.31    6.50      .97        6.31       1.25      1.18         5.13
   JULY         72        10.42    7.51      .77        5.78       1.00       .95         4.83
                                           SEASONAL CONSUMPTIVE IRRIGATION REQUIREMENT   13.52


                                          CHEYENNE AP
	LATITUDE 41-09	               LONGITUDE 104-49         ELEVATION 6126

   MONTH       MEAN	 DAYTIME  FACTOR COEFFICIENT  CONSUMPTIVE  MEAN    EFFECTIVE  CONSUMPTIVE
              MONTHLY	  HOURS		                 USE      MONTHLY  RAINFALL   IRRIGATION
            TEMPERATURE					          RAINFALL            REQUIREMENT
                (T)        (P)      (F)      (K)	(CU)	    (R)      (RE)       (CU-RE)
ALFALFA
   APRIL        42         8.96    3.77      .50        1.20       1.88      1.75          .00
   MAY          51        10.08    5.15      .76        3.91       2.52      2.28         1.64
   JUNE         62        10.16    6.30      .94        5.93       2.11      1.95         3.99
   JULY         69        10.30    7.11      .99        7.04       1.82      1.69         5.35
   AUGUST       67         9.59    6.43      .90        5.79       1.31      1.23         4.56
   SEPTEMBER    58         8.39    4.87      .70        3.41       1.10      1.04         2.37
   OCTOBER      48         7.72    3.71      .44        1.64        .83       .79          .85
   NOVEMBER     35         6.67    2.34      .30         .03        .62       .59          .01
                                           SEASONAL CONSUMPTIVE IRRIGATION REQUIREMENT   18.77
CORN
   MAY          51        10.08    5.15      .46        1.61       2.52      2.28          .00
   JUNE         62        10.16    6.30      .66        4.16       2.11      1.95         2.22
   JULY         69        10.30    7.11      .92        6.54       1.82      1.69         4.86
   AUGUST       67         9.59    6.43      .99        6.37       1.44      1.35         5.02
   SEPTEMBER    58         8.39    4.87      .86        4.19       1.10      1.04         3.15
                                           SEASONAL CONSUMPTIVE IRRIGATION REQUIREMENT   15.26
GRASS, HAY, AND PASTURE
   APRIL        42         8.96    3.77      .50        1.20       1.88      1.75          .00
   MAY          51        10.08    5.15      .72        3.71       2.52      2.28         1.43
   JUNE         62        10.16    6.30      .89        5.61       2.11      1.95         3.67
   JULY         69        10.30    7.11      .93        6.61       1.82      1.69         4.93
   AUGUST       67         9.59    6.43      .85        5.47       1.44      1.35         4.12
   SEPTEMBER    58         8.39    4.87      .66        3.22       1.10      1.04         2.18
   OCTOBER      48         7.72    3.71      .43        1.60        .83       .79          .81
   NOVEMBER     35         6.67    2.34      .30         .03        .62       .59          .01
                                           SEASONAL CONSUMPTIVE IRRIGATION REQUIREMENT   17.15
SMALL GRAIN
   APRIL        42         8.96    3.77      .55        2.07       1.88      1.75          .33
   MAY          51        10.08    5.15      .87        4.48       2.52      2.28         2.20
   JUNE         62        10.16    6.30      .99        6.24       2.11      1.95         4.30
   JULY         69        10.30    7.11      .78        5.55       1.82      1.69         3.86
                                           SEASONAL CONSUMPTIVE IRRIGATION REQUIREMENT   10.70


                                          CHUGWATER
	LATITUDE 41-45	               LONGITUDE 104-49         ELEVATION 5282

   MONTH       MEAN	 DAYTIME  FACTOR COEFFICIENT  CONSUMPTIVE  MEAN    EFFECTIVE  CONSUMPTIVE
              MONTHLY	  HOURS		                 USE      MONTHLY  RAINFALL   IRRIGATION
            TEMPERATURE					          RAINFALL            REQUIREMENT
                (T)        (P)      (F)      (K)	(CU) 	   (R)      (RE)       (CU-RE)
ALFALFA
   APRIL        44         8.98    3.96      .46        1.64       2.07      1.91          .00
   MAY          53        10.12    5.37      .76        4.08       2.62      2.36         1.72
   JUNE         62        10.22    6.34      .94        5.96       2.36      2.15         3.82
   JULY         69        10.34    7.14      .99        7.07       1.87      1.74         5.34
   AUGUST       68         9.61    6.54      .90        5.89       1.08      1.03         4.86
   SEPTEMBER    59         8.40    4.96      .70        3.47       1.10      1.04         2.43
   OCTOBER      48         7.70    3.70      .44        1.63        .92       .88          .76
   NOVEMBER     36         6.63    2.39      .30         .03        .64       .61          .01
                                           SEASONAL CONSUMPTIVE IRRIGATION REQUIREMENT   18.95
CORN
   MAY          53        10.12    5.37      .49        2.46       2.62      2.36          .11
   JUNE         62        10.22    6.34      .72        4.57       2.36      2.15         2.42
   JULY         69        10.34    7.14      .97        6.93       1.87      1.74         5.19
   AUGUST       68         9.61    6.54      .99        6.47       1.08      1.03         5.45
   SEPTEMBER    59         8.40    4.96      .86        4.27       1.10      1.04         3.23
                                           SEASONAL CONSUMPTIVE IRRIGATION REQUIREMENT   16.40
GRASS, HAY, AND PASTURE
   APRIL        44         8.98    3.96      .45        1.61       2.07      1.91          .00
   MAY          53        10.12    5.37      .72        3.87       2.62      2.36         1.51
   JUNE         62        10.22    6.34      .89        5.64       2.36      2.15         3.50
   JULY         69        10.34    7.14      .93        6.64       1.87      1.74         4.91
   AUGUST       68         9.61    6.54      .85        5.56       1.08      1.03         4.54
   SEPTEMBER    59         8.40    4.96      .66        3.28       1.10      1.04         2.24
   OCTOBER      48         7.70    3.70      .43        1.59        .92       .88          .72
   NOVEMBER     36         6.63    2.39      .30         .03        .64       .61          .01
                                           SEASONAL CONSUMPTIVE IRRIGATION REQUIREMENT   17.43
SMALL GRAIN
   MARCH        34         8.30    2.83      .43         .24       1.08      1.03          .00
   APRIL        44         8.98    3.96      .62        2.45       2.07      1.91          .55
   MAY          53        10.12    5.37      .90        4.83       2.62      2.36         2.47
   JUNE         62        10.22    6.34      .97        6.15       2.36      2.15         4.01
   JULY         69        10.34    7.14      .73        5.21       1.87      1.74         3.48
                                           SEASONAL CONSUMPTIVE IRRIGATION REQUIREMENT   10.52


                                           CODY
	LATITUDE 44-33	               LONGITUDE 109-04        ELEVATION 4990

   MONTH       MEAN	 DAYTIME  FACTOR COEFFICIENT  CONSUMPTIVE  MEAN    EFFECTIVE  CONSUMPTIVE
              MONTHLY	  HOURS		                 USE      MONTHLY  RAINFALL   IRRIGATION
            TEMPERATURE					          RAINFALL            REQUIREMENT
                (T)        (P)      (F)      (K)	(CU)	   (R)      (RE)       (CU-RE)
ALFALFA
   APRIL        44         9.07    4.00      .46        1.60       1.08      1.03          .57
   MAY          54        10.28    5.56      .76        4.22       1.50      1.40         2.82
   JUNE         61        10.42    6.36      .94        5.98       1.73      1.61         4.37
   JULY         70        10.53    7.38      .99        7.30        .99       .95         6.36
   AUGUST       68         9.73    6.62      .90        5.96        .70       .67         5.29
   SEPTEMBER    58         8.42    4.89      .70        3.42        .79       .76         2.67
   OCTOBER      48         7.62    3.66      .44        1.63        .61       .58         1.03
   NOVEMBER     35         6.46    2.27      .28         .11        .46       .44          .04
                                           SEASONAL CONSUMPTIVE IRRIGATION REQUIREMENT   23.18
BEANS
   MAY          54        10.28    5.56      .48        1.47       1.50      1.40          .07
   JUNE         61        10.42    6.36      .83        5.28       1.73      1.61         3.67
   JULY         70        10.53    7.38      .93        6.86        .99       .95         5.92
   AUGUST       68         9.73    6.62      .65        4.31        .70       .67         3.64
                                           SEASONAL CONSUMPTIVE IRRIGATION REQUIREMENT   13.31
CORN
   MAY          54        10.28    5.56      .47        2.36       1.50      1.40          .96
   JUNE         61        10.42    6.36      .70        4.45       1.73      1.61         2.85
   JULY         70        10.53    7.38      .96        7.08        .99       .95         6.14
   AUGUST       68         9.73    6.62      .97        6.42        .70       .67         5.76
   SEPTEMBER    58         8.42    4.89      .83        4.06        .79       .76         3.31
                                           SEASONAL CONSUMPTIVE IRRIGATION REQUIREMENT   19.02
GRASS, HAY, AND PASTURE
   APRIL        44         9.07    4.00      .45        1.56       1.08      1.03          .54
   MAY          54        10.28    5.56      .72        4.00       1.50      1.40         2.60
   JUNE         61        10.42    6.36      .89        5.66       1.73      1.61         4.06
   JULY         70        10.53    7.38      .93        6.86        .99       .95         5.92
   AUGUST       68         9.73    6.62      .85        5.63        .70       .67         4.96
   SEPTEMBER    58         8.42    4.89      .66        3.23        .79       .76         2.48
   OCTOBER      48         7.62    3.66      .43        1.58        .61       .58         1.00
   NOVEMBER     35         6.46    2.27      .28         .11        .46       .44          .04
                                           SEASONAL CONSUMPTIVE IRRIGATION REQUIREMENT   21.60
POTATOES
   MAY          54        10.28    5.56      .44         .56       1.50      1.40          .00
   JUNE         61        10.42    6.36      .62        3.95       1.73      1.61         2.34
   JULY         70        10.53    7.38      .80        5.90        .99       .95         4.96
   AUGUST       68         9.73    6.62      .83        5.50        .70       .67         4.83
   SEPTEMBER    58         8.42    4.89      .73        3.57        .79       .76         2.82
                                           SEASONAL CONSUMPTIVE IRRIGATION REQUIREMENT   14.96
SMALL GRAIN
   MARCH        34         8.29    2.82      .43         .20        .60       .57          .00
   APRIL        44         9.07    4.00      .62        2.48       1.08      1.03         1.46
   MAY          54        10.28    5.56      .90        5.00       1.50      1.40         3.60
   JUNE         61        10.42    6.36      .97        6.17       1.73      1.61         4.56
   JULY         70        10.53    7.38      .73        5.39        .99       .95         4.45
                                           SEASONAL CONSUMPTIVE IRRIGATION REQUIREMENT   14.08
SUGAR BEETS
   APRIL        44         9.07    4.00      .42         .62       1.08      1.03          .00
   MAY          54        10.28    5.56      .51        2.84       1.50      1.40         1.44
   JUNE         61        10.42    6.36      .78        4.96       1.73      1.61         3.36
   JULY         70        10.53    7.38      .90        6.64        .99       .95         5.70
   AUGUST       68         9.73    6.62      .86        5.70        .70       .67         5.03
   SEPTEMBER    58         8.42    4.89      .68        3.33        .79       .76         2.58
   OCTOBER      48         7.62    3.66      .52         .62        .61       .58          .43
                                           SEASONAL CONSUMPTIVE IRRIGATION REQUIREMENT   18.54


                                          COLONY
	LATITUDE 44-56	               LONGITUDE 104-12         ELEVATION 3553

   MONTH       MEAN	 DAYTIME  FACTOR COEFFICIENT  CONSUMPTIVE  MEAN    EFFECTIVE  CONSUMPTIVE
              MONTHLY	  HOURS		                 USE      MONTHLY  RAINFALL   IRRIGATION
            TEMPERATURE						  RAINFALL            REQUIREMENT
                (T)        (P)      (F)      (K)	(CU)        (R)      (RE)       (CU-RE)
ALFALFA
   APRIL        44         9.08    4.00      .58        1.94       1.60      1.49          .45
   MAY          55        10.31    5.68      .84        4.77       2.20      2.02         2.75
   JUNE         64        10.46    6.70      .98        6.57       3.24      2.83         3.74
   JULY         74        10.57    7.83     1.02        7.98       1.37      1.29         6.70
   AUGUST       72         9.75    7.02      .94        6.60       1.26      1.19         5.42
   SEPTEMBER    61         8.42    5.14      .74        3.81       1.18      1.12         2.69
   OCTOBER      49         7.61    3.73      .50        1.87        .78       .75         1.13
   NOVEMBER     34         6.43    2.19      .36         .08        .67       .64          .02
                                           SEASONAL CONSUMPTIVE IRRIGATION REQUIREMENT   22.91
GRASS, HAY, AND PASTURE
   APRIL        44         9.08    4.00      .57        1.90       1.60      1.49          .41
   MAY          55        10.31    5.68      .78        4.43       2.20      2.02         2.41
   JUNE         64        10.46    6.70      .92        6.16       3.24      2.83         3.34
   JULY         74        10.57    7.83      .95        7.44       1.37      1.29         6.15
   AUGUST       72         9.75    7.02      .87        6.11       1.26      1.19         4.93
   SEPTEMBER    61         8.42    5.14      .70        3.60       1.18      1.12         2.49
   OCTOBER      49         7.61    3.73      .48        1.79        .78       .75         1.05
   NOVEMBER     34         6.43    2.19      .35         .08        .67       .64          .02
                                           SEASONAL CONSUMPTIVE IRRIGATION REQUIREMENT   20.81
SMALL GRAIN
   MARCH        31         8.29    2.57      .42         .14        .83       .79          .00
   APRIL        44         9.08    4.00      .56        2.24       1.60      1.49          .75
   MAY          55        10.31    5.68      .89        5.05       2.20      2.02         3.04
   JUNE         64        10.46    6.70      .97        6.50       3.24      2.83         3.67
   JULY         74        10.57    7.83      .77        6.03       1.37      1.29         4.74
                                           SEASONAL CONSUMPTIVE IRRIGATION REQUIREMENT   12.22


                                          DIVERSION DAM
	LATITUDE 43-14	               LONGITUDE 108-56         ELEVATION 5574

   MONTH       MEAN	 DAYTIME  FACTOR COEFFICIENT  CONSUMPTIVE  MEAN    EFFECTIVE  CONSUMPTIVE
              MONTHLY	  HOURS		                 USE      MONTHLY  RAINFALL   IRRIGATION
            TEMPERATURE					          RAINFALL            REQUIREMENT
                (T)        (P)      (F)      (K)	(CU) 	    (R)      (RE)       (CU-RE)
ALFALFA
   APRIL        43         9.03    3.89      .50        1.49       1.26      1.19          .31
   MAY          52        10.20    5.31      .79        4.20       1.97      1.83         2.37
   JUNE         60        10.33    6.20      .97        6.02       1.46      1.37         4.65
   JULY         68        10.44    7.10     1.01        7.18        .82       .78         6.40
   AUGUST       66         9.67    6.39      .90        5.75        .61       .58         5.17
   SEPTEMBER    57         8.40    4.79      .72        3.45        .96       .92         2.54
   OCTOBER      47         7.66    3.61      .48        1.68        .88       .84          .87
                                           SEASONAL CONSUMPTIVE IRRIGATION REQUIREMENT   22.31
BEANS
   MAY          52        10.20    5.31      .45        1.08       1.97      1.83          .00
   JUNE         60        10.33    6.20      .80        4.96       1.46      1.37         3.60
   JULY         68        10.44    7.10      .97        6.89        .82       .78         6.11
   AUGUST       66         9.67    6.39      .66        4.22        .61       .58         3.64
                                           SEASONAL CONSUMPTIVE IRRIGATION REQUIREMENT   13.36
CORN
   MAY          52        10.20    5.31      .47        1.93       1.97      1.83          .11
   JUNE         60        10.33    6.20      .67        4.16       1.46      1.37         2.79
   JULY         68        10.44    7.10      .95        6.75        .82       .78         5.97
   AUGUST       66         9.67    6.39      .99        6.32        .61       .58         5.74
   SEPTEMBER    57         8.40    4.79      .82        3.93        .96       .92         3.02
                                           SEASONAL CONSUMPTIVE IRRIGATION REQUIREMENT   17.64
GRASS, HAY, AND PASTURE
   APRIL        43         9.03    3.80      .52        1.52       1.26      1.19          .33
   MAY          52        10.20    5.31      .75        3.98       1.97      1.83         2.16
   JUNE         60        10.33    6.20      .91        5.65       1.46      1.37         4.28
   JULY         68        10.44    7.10      .94        6.68        .82       .78         5.90
   AUGUST       66         9.67    6.39      .86        5.49        .61       .58         4.91
   SEPTEMBER    57         8.40    4.79      .69        3.31        .96       .92         2.40
   OCTOBER      47         7.66    3.61      .46        1.61        .88       .84          .80
                                           SEASONAL CONSUMPTIVE IRRIGATION REQUIREMENT   20.79
POTATOES
   MAY          52        10.20    5.31      .42         .29       1.97      1.83          .00
   JUNE         60        10.33    6.20      .58        3.60       1.46      1.37         2.24
   JULY         68        10.44    7.10      .78        5.54        .82       .78         4.76
   AUGUST       66         9.67    6.39      .84        5.37        .61       .58         4.79
   SEPTEMBER    57         8.40    4.79      .76        3.64        .96       .92         2.73
                                           SEASONAL CONSUMPTIVE IRRIGATION REQUIREMENT   14.53
SMALL GRAIN
   MARCH        32         8.30    2.66      .41         .08        .48       .46          .00
   APRIL        43         9.03    3.89      .56        2.18       1.26      1.19         1.00
   MAY          52        10.20    5.31      .89        4.73       1.97      1.83         2.90
   JUNE         60        10.33    6.20      .97        6.02       1.46      1.37         4.65
   JULY         68        10.44    7.10      .77        5.47        .82       .78         4.69
                                           SEASONAL CONSUMPTIVE IRRIGATION REQUIREMENT   13.25
SUGAR BEETS
   APRIL        43         9.03    3.89      .41         .43       1.26      1.19          .00
   MAY          52        10.20    5.31      .51        2.71       1.97      1.83          .89
   JUNE         60        10.33    6.20      .75        4.65       1.46      1.37         3.29
   JULY         68        10.44    7.10      .90        6.39        .82       .78         5.62
   AUGUST       66         9.67    6.39      .87        5.56        .61       .58         4.98
   SEPTEMBER    57         8.40    4.79      .70        3.36        .96       .92         2.44
   OCTOBER      47         7.66    3.61      .53         .62        .88       .84          .35
                                           SEASONAL CONSUMPTIVE IRRIGATION REQUIREMENT   17.58


                                          DIXON
	LATITUDE 41-02	               LONGITUDE 107-32         ELEVATION 6360

   MONTH       MEAN	 DAYTIME  FACTOR COEFFICIENT  CONSUMPTIVE  MEAN    EFFECTIVE  CONSUMPTIVE
              MONTHLY	  HOURS		                 USE      MONTHLY  RAINFALL   IRRIGATION
            TEMPERATURE						  RAINFALL            REQUIREMENT
                (T)        (P)      (F)      (K)	(CU)	    (R)      (RE)       (CU-RE)
ALFALFA
   APRIL        42         8.96    3.77      .53        1.40       1.27      1.20          .21
   MAY          50        10.07    5.04      .76        3.83       1.27      1.20         2.64
   JUNE         58        10.16    5.90      .94        5.54        .95       .91         4.64
   JULY         65        10.29    6.69      .99        6.63       1.22      1.15         5.48
   AUGUST       63         9.59    6.05      .90        5.44       1.14      1.08         4.37
   SEPTEMBER    55         8.39    4.62      .70        3.24        .85       .81         2.43
   OCTOBER      44         7.72    3.40      .49        1.40       1.28      1.21          .39
                                           SEASONAL CONSUMPTIVE IRRIGATION REQUIREMENT   20.16
GRASS, HAY, AND PASTURE
   APRIL        42         8.96    3.77      .50        1.32       1.27      1.20          .13
   MAY          50        10.07    5.04      .72        3.63       1.27      1.20         2.44
   JUNE         58        10.16    5.90      .89        5.25        .95       .91         4.35
   JULY         65        10.29    6.69      .93        6.23       1.22      1.15         5.08
   AUGUST       63         9.59    6.05      .85        5.14       1.14      1.08         4.06
   SEPTEMBER    55         8.39    4.62      .66        3.05        .85       .81         2.24
   OCTOBER      44         7.72    3.40      .44        1.26       1.28      1.21          .25
                                           SEASONAL CONSUMPTIVE IRRIGATION REQUIREMENT   18.55
SMALL GRAIN
   MARCH        30         8.31    2.50      .40         .04       1.17      1.11          .00
   APRIL        42         8.96    3.77      .55        2.07       1.27      1.20          .88
   MAY          50        10.07    5.04      .87        4.39       1.27      1.20         3.19
   JUNE         58        10.16    5.90      .99        5.84        .95       .91         4.94
   JULY         65        10.29    6.69      .78        5.22       1.22      1.15         4.07
                                           SEASONAL CONSUMPTIVE IRRIGATION REQUIREMENT   13.09


                                          DOUGLAS
	LATITUDE 42-45	               LONGITUDE 105-23         ELEVATION 4805

   MONTH       MEAN	 DAYTIME  FACTOR COEFFICIENT  CONSUMPTIVE  MEAN    EFFECTIVE  CONSUMPTIVE
              MONTHLY	  HOURS		                 USE      MONTHLY  RAINFALL   IRRIGATION
            TEMPERATURE						  RAINFALL            REQUIREMENT
                (T)        (P)      (F)      (K)	(CU)	    (R)      (RE)       (CU-RE)
ALFALFA
   APRIL        44         9.01    3.97      .52        1.79       1.82      1.69          .10
   MAY          53        10.18    5.40      .79        4.27       2.32      2.12         2.15
   JUNE         63        10.29    6.49      .97        6.29       1.83      1.70         4.60
   JULY         70        10.40    7.28     1.01        7.36       1.34      1.26         6.10
   AUGUST       68         9.65    6.57      .90        5.91       1.05      1.00         4.92
   SEPTEMBER    58         8.40    4.88      .72        3.51       1.13      1.07         2.45
   OCTOBER      46         7.68    3.54      .48        1.65       1.11      1.05          .63
                                           SEASONAL CONSUMPTIVE IRRIGATION REQUIREMENT   20.95
BEANS
   MAY          53        10.18    5.40      .48        1.43       2.32      2.12          .00
   JUNE         63        10.29    6.49      .83        5.39       1.83      1.70         3.69
   JULY         70        10.40    7.28      .93        6.78       1.34      1.26         5.52
   AUGUST       68         9.65    6.57      .65        4.27       1.05      1.00         3.28
                                           SEASONAL CONSUMPTIVE IRRIGATION REQUIREMENT   12.49
CORN
   MAY          53        10.18    5.40      .47        2.30       2.32      2.12          .18
   JUNE         63        10.29    6.49      .70        4.54       1.83      1.70         2.85
   JULY         70        10.40    7.28      .96        6.99       1.34      1.26         5.74
   AUGUST       68         9.65    6.57      .97        6.37       1.05      1.00         5.38
   SEPTEMBER    58         8.40    4.88      .83        4.05       1.13      1.07         2.98
                                           SEASONAL CONSUMPTIVE IRRIGATION REQUIREMENT   17.13
GRASS, HAY, AND PASTURE
   APRIL        44         9.01    3.97      .52        1.79       1.82      1.69          .10
   MAY          53        10.18    5.40      .75        4.05       2.32      2.12         1.94
   JUNE         63        10.29    6.49      .91        5.90       1.83      1.70         4.21
   JULY         70        10.40    7.28      .94        6.85       1.34      1.26         5.59
   AUGUST       68         9.65    6.57      .86        5.65       1.05      1.00         4.65
   SEPTEMBER    58         8.40    4.88      .69        3.37       1.13      1.07         2.30
   OCTOBER      46         7.68    3.54      .46        1.58       1.11      1.05          .56
                                           SEASONAL CONSUMPTIVE IRRIGATION REQUIREMENT   19.36
POTATOES
   MAY          53        10.18    5.40      .44         .54       2.32      2.12          .00
   JUNE         63        10.29    6.49      .62        4.02       1.83      1.70         2.33
   JULY         70        10.40    7.28      .80        5.83       1.34      1.26         4.57
   AUGUST       68         9.65    6.57      .83        5.45       1.05      1.00         4.46
   SEPTEMBER    58         8.40    4.88      .73        3.56       1.13      1.07         2.49
                                           SEASONAL CONSUMPTIVE IRRIGATION REQUIREMENT   13.86
SMALL GRAIN
   MARCH        33         8.30    2.74      .42         .19        .77       .74          .00
   APRIL        44         9.01    3.97      .62        2.46       1.82      1.69          .77
   MAY          53        10.18    5.40      .90        4.86       2.32      2.12         2.75
   JUNE         63        10.29    6.49      .97        6.29       1.83      1.70         4.60
   JULY         70        10.40    7.28      .73        5.32       1.34      1.26         4.06
                                           SEASONAL CONSUMPTIVE IRRIGATION REQUIREMENT   12.19
SUGAR BEETS
   APRIL        44         9.01    3.97      .42         .62       1.82      1.69          .00
   MAY          53        10.18    5.40      .51        2.76       2.32      2.12          .64
   JUNE         63        10.29    6.49      .78        5.06       1.83      1.70         3.36
   JULY         70        10.40    7.28      .90        6.56       1.34      1.26         5.30
   AUGUST       68         9.65    6.57      .86        5.65       1.05      1.00         4.65
   SEPTEMBER    58         8.40    4.88      .68        3.32       1.13      1.07         2.25
   OCTOBER      46         7.68    3.54      .52         .60       1.11      1.05          .26
                                           SEASONAL CONSUMPTIVE IRRIGATION REQUIREMENT   16.48


                                          DUBOIS
	LATITUDE 43-33	               LONGITUDE 109-37         ELEVATION 6917

   MONTH       MEAN	 DAYTIME  FACTOR COEFFICIENT  CONSUMPTIVE  MEAN    EFFECTIVE  CONSUMPTIVE
              MONTHLY	  HOURS		                 USE      MONTHLY  RAINFALL   IRRIGATION
            TEMPERATURE						  RAINFALL            REQUIREMENT
                (T)        (P)      (F)      (K)	(CU)	    (R)      (RE)       (CU-RE)
ALFALFA
   APRIL        38         9.04    3.44      .40         .42       1.15      1.09          .00
   MAY          47        10.22    4.81      .61        2.94       1.47      1.38         1.56
   JUNE         54        10.35    5.59      .90        5.04       1.32      1.24         3.80
   JULY         61        10.46    6.39      .97        6.19        .91       .87         5.33
   AUGUST       59         9.69    5.72      .87        4.98        .69       .66         4.32
   SEPTEMBER    52         8.40    4.37      .66        2.89        .99       .95         1.95
   OCTOBER      43         7.65    3.29      .40        1.02        .81       .77          .43
                                           SEASONAL CONSUMPTIVE IRRIGATION REQUIREMENT   17.40
GRASS, HAY, AND PASTURE
   APRIL        38         9.04    3.44      .40         .42       1.15      1.09          .00
   MAY          47        10.22    4.81      .59        2.84       1.47      1.38         1.47
   JUNE         54        10.35    5.59      .84        4.70       1.32      1.24         3.46
   JULY         61        10.46    6.39      .90        5.75        .91       .87         4.88
   AUGUST       59         9.69    5.72      .83        4.75        .69       .66         4.09
   SEPTEMBER    52         8.40    4.37      .63        2.76        .99       .95         1.82
   OCTOBER      43         7.65    3.29      .38         .97        .81       .77          .38
                                           SEASONAL CONSUMPTIVE IRRIGATION REQUIREMENT   16.11
SMALL GRAIN
   APRIL        38         9.04    3.44      .49        1.09       1.15      1.09          .01
   MAY          47        10.22    4.81      .76        3.66       1.47      1.38         2.28
   JUNE         54        10.35    5.59      .99        5.54       1.32      1.24         4.30
   JULY         61        10.46    6.39      .88        5.62        .91       .87         4.76
                                           SEASONAL CONSUMPTIVE IRRIGATION REQUIREMENT   11.35


                                          DULL CENTER 1SE
	LATITUDE 43-25	               LONGITUDE 104-57         ELEVATION 4415

   MONTH       MEAN	 DAYTIME  FACTOR COEFFICIENT  CONSUMPTIVE  MEAN    EFFECTIVE  CONSUMPTIVE
              MONTHLY	  HOURS		                 USE      MONTHLY  RAINFALL   IRRIGATION
            TEMPERATURE						  RAINFALL            REQUIREMENT
                (T)        (P)      (F)      (K)	(CU)	    (R)      (RE)       (CU-RE)
ALFALFA
   APRIL        44         9.03    3.98      .58        2.08       1.49      1.40          .69
   MAY          54        10.22    5.52      .84        4.64       2.31      2.11         2.54
   JUNE         64        10.35    6.63      .98        6.50       2.20      2.02         4.48
   JULY         73        10.45    7.63     1.02        7.79       1.48      1.39         6.40
   AUGUST       71         9.68    6.88      .94        6.47       1.21      1.14         5.33
   SEPTEMBER    60         8.40    5.04      .74        3.73        .94       .90         2.84
   OCTOBER      49         7.66    3.76      .50        1.88        .80       .76         1.12
   NOVEMBER     34         6.53    2.23      .36         .19        .40       .38          .10
                                           SEASONAL CONSUMPTIVE IRRIGATION REQUIREMENT   23.51
GRASS, HAY, AND PASTURE
   APRIL        44         9.03    3.98      .54        1.94       1.49      1.40          .54
   MAY          54        10.22    5.52      .78        4.31       2.31      2.11         2.21
   JUNE         64        10.35    6.63      .92        6.10       2.20      2.02         4.09
   JULY         73        10.45    7.63      .95        7.25       1.48      1.39         5.87
   AUGUST       71         9.68    6.88      .87        5.98       1.21      1.14         4.85
   SEPTEMBER    60         8.40    5.04      .70        3.53        .94       .90         2.64
   OCTOBER      49         7.66    3.76      .48        1.81        .80       .76         1.05
   NOVEMBER     34         6.53    2.23      .38         .06        .40       .38          .04
                                           SEASONAL CONSUMPTIVE IRRIGATION REQUIREMENT   21.28
SMALL GRAIN
   MARCH        33         8.30    2.74      .43         .23        .56       .54          .00
   APRIL        44         9.03    3.98      .62        2.47       1.49      1.40         1.08
   MAY          54        10.22    5.52      .90        4.97       2.31      2.11         2.87
   JUNE         64        10.35    6.63      .97        6.43       2.20      2.02         4.42
   JULY         73        10.45    7.63      .73        5.57       1.48      1.39         4.19
                                           SEASONAL CONSUMPTIVE IRRIGATION REQUIREMENT   12.56


                                          ENCAMPMENT 10ESE
	LATITUDE 41-11	               LONGITUDE 106-37         ELEVATION 7387

   MONTH       MEAN	 DAYTIME  FACTOR COEFFICIENT  CONSUMPTIVE  MEAN    EFFECTIVE  CONSUMPTIVE
              MONTHLY	  HOURS		                 USE      MONTHLY  RAINFALL   IRRIGATION
            TEMPERATURE						  RAINFALL            REQUIREMENT
                (T)        (P)      (F)      (K)	(CU)        (R)      (RE)       (CU-RE)
ALFALFA
   APRIL        40         8.96    3.59      .41         .69       1.73      1.61          .00
   MAY          49        10.08    4.94      .65        3.22       1.79      1.67         1.55
   JUNE         57        10.18    5.81      .92        5.34       1.31      1.23         4.11
   JULY         64        10.30    6.60      .97        6.40       1.20      1.13         5.27
   AUGUST       63         9.59    6.05      .89        5.38       1.34      1.26         4.13
   SEPTEMBER    56         8.39    4.70      .68        3.20       1.06      1.01         2.20
   OCTOBER      45         7.72    3.48      .43        1.35       1.21      1.14          .33
                                           SEASONAL CONSUMPTIVE IRRIGATION REQUIREMENT   17.60
CORN
   MAY          49        10.08    4.94      .44        1.13       1.79      1.67          .00
   JUNE         57        10.18    5.81      .59        3.43       1.31      1.23         2.20
   JULY         64        10.30    6.60      .87        5.74       1.20      1.13         4.61
   AUGUST       63         9.59    6.05      .99        5.99       1.34      1.26         4.73
   SEPTEMBER    56         8.39    4.70      .93        4.37       1.06      1.01         3.37
                                           SEASONAL CONSUMPTIVE IRRIGATION REQUIREMENT   14.92
GRASS, HAY, AND PASTURE
   APRIL        40         8.96    3.59      .43         .72       1.73      1.61          .00
   MAY          49        10.08    4.94      .66        3.26       1.79      1.67         1.60
   JUNE         57        10.18    5.81      .87        5.05       1.31      1.23         3.82
   JULY         64        10.30    6.60      .91        6.00       1.20      1.13         4.87
   AUGUST       63         9.59    6.05      .84        5.08       1.34      1.26         3.82
   SEPTEMBER    56         8.39    4.70      .66        3.11       1.06      1.01         2.10
   OCTOBER      45         7.72    3.48      .41        1.29       1.21      1.14          .26
                                           SEASONAL CONSUMPTIVE IRRIGATION REQUIREMENT   16.50
SMALL GRAIN
   APRIL        40         8.96    3.59      .51        1.48       1.73      1.61          .00
   MAY          49        10.08    4.94      .81        4.01       1.79      1.67         2.34
   JUNE         57        10.18    5.81     1.00        5.81       1.31      1.23         4.58
   JULY         64        10.30    6.60      .84        5.54       1.20      1.13         4.41
                                           SEASONAL CONSUMPTIVE IRRIGATION REQUIREMENT   11.35


                                          EVANSTON 1E
	LATITUDE 41-16	               LONGITUDE 110-57         ELEVATION 6780

   MONTH       MEAN	 DAYTIME  FACTOR COEFFICIENT  CONSUMPTIVE  MEAN    EFFECTIVE  CONSUMPTIVE
              MONTHLY	  HOURS		                 USE      MONTHLY  RAINFALL   IRRIGATION
            TEMPERATURE						  RAINFALL            REQUIREMENT
                (T)        (P)      (F)      (K)	(CU)	    (R)      (RE)       (CU-RE)
ALFALFA
   APRIL        38         8.97    3.41      .40         .50       1.05      1.00          .00
   MAY          47        10.08    4.74      .61        2.89       1.19      1.13         1.77
   JUNE         55        10.18    5.60      .90        5.04       1.04       .99         4.06
   JULY         62        10.31    6.40      .97        6.21        .66       .63         5.58
   AUGUST       61         9.60    5.86      .87        5.10        .92       .88         4.23
   SEPTEMBER    53         8.39    4.45      .66        2.94        .68       .65         2.29
   OCTOBER      43         7.72    3.32      .40         .99        .92       .88          .34
                                           SEASONAL CONSUMPTIVE IRRIGATION REQUIREMENT   18.28
GRASS, HAY, AND PASTURE
   APRIL        38         8.97    3.41      .40         .50       1.05      1.00          .00
   MAY          47        10.08    4.74      .59        2.80       1.19      1.13         1.68
   JUNE         55        10.18    5.60      .84        4.71       1.04       .99         3.72
   JULY         62        10.31    6.40      .90        5.76        .66       .63         5.13
   AUGUST       61         9.60    5.86      .83        4.87        .92       .88         3.99
   SEPTEMBER    53         8.39    4.45      .63        2.81        .68       .65         2.16
   OCTOBER      43         7.72    3.32      .38         .94        .92       .88          .29
                                           SEASONAL CONSUMPTIVE IRRIGATION REQUIREMENT   16.99
SMALL GRAIN
   APRIL        38         8.97    3.41      .50        1.54       1.05      1.00          .54
   MAY          47        10.08    4.74      .78        3.70       1.19      1.13         2.58
   JUNE         55        10.18    5.60     1.00        5.60       1.04       .99         4.62
   JULY         62        10.31    6.40      .86        5.50        .66       .63         4.88
                                           SEASONAL CONSUMPTIVE IRRIGATION REQUIREMENT   12.62


                                           FARSON
	LATITUDE 42-07	               LONGITUDE 109-27         ELEVATION 6591

   MONTH       MEAN	 DAYTIME  FACTOR COEFFICIENT  CONSUMPTIVE  MEAN    EFFECTIVE  CONSUMPTIVE
              MONTHLY	  HOURS		                 USE      MONTHLY  RAINFALL   IRRIGATION
            TEMPERATURE						  RAINFALL            REQUIREMENT
                (T)        (P)      (F)      (K)	(CU)	    (R)      (RE)       (CU-RE)
ALFALFA
   APRIL        38         8.97    3.41      .40         .64        .69       .66          .00
   MAY          48        10.14    4.87      .61        2.97        .96       .92         2.06
   JUNE         56        10.25    5.74      .90        5.17        .85       .81         4.36
   JULY         64        10.38    6.65      .97        6.45        .64       .61         5.84
   AUGUST       61         9.63    5.88      .87        5.12        .61       .58         4.54
   SEPTEMBER    53         8.40    4.46      .66        2.94        .67       .64         2.31
   OCTOBER      41         7.70    3.16      .43         .84        .69       .66          .44
                                           SEASONAL CONSUMPTIVE IRRIGATION REQUIREMENT   19.55
GRASS, HAY, AND PASTURE
   APRIL        38         8.97    3.41      .40         .62        .69       .66          .00
   MAY          48        10.14    4.87      .59        2.88        .96       .92         1.96
   JUNE         56        10.25    5.74      .84        4.83        .85       .81         4.02
   JULY         64        10.38    6.65      .90        5.98        .64       .61         5.38
   AUGUST       61         9.63    5.88      .83        4.88        .61       .58         4.30
   SEPTEMBER    53         8.40    4.46      .63        2.81        .67       .64         2.17
   OCTOBER      41         7.70    3.16      .41         .80        .69       .66          .40
                                           SEASONAL CONSUMPTIVE IRRIGATION REQUIREMENT   18.24
SMALL GRAIN
   APRIL        38         8.97    3.41      .51        1.45        .69       .66          .80
   MAY          48        10.14    4.87      .81        3.95        .96       .92         3.04
   JUNE         56        10.25    5.74     1.00        5.74        .85       .81         4.94
   JULY         64        10.38    6.65      .84        5.59        .64       .61         4.98
                                           SEASONAL CONSUMPTIVE IRRIGATION REQUIREMENT   13.75


                                           FT. WASHAKIE 2S
	LATITUDE 42-59	               LONGITUDE 108-53         ELEVATION 5592

   MONTH       MEAN	 DAYTIME  FACTOR COEFFICIENT  CONSUMPTIVE  MEAN    EFFECTIVE  CONSUMPTIVE
              MONTHLY	  HOURS		                 USE      MONTHLY  RAINFALL   IRRIGATION
            TEMPERATURE						  RAINFALL            REQUIREMENT
                (T)        (P)      (F)      (K)	(CU)	    (R)      (RE)       (CU-RE)
ALFALFA
   APRIL        43         9.02    3.88      .46        1.49       1.95      1.81          .00
   MAY          52        10.19    5.30      .76        4.03       2.49      2.26         1.78
   JUNE         60        10.31    6.19      .94        5.82       1.49      1.40         4.43
   JULY         67        10.42    6.99      .99        6.92        .75       .72         6.20
   AUGUST       66         9.66    6.38      .90        5.74        .48       .46         5.29
   SEPTEMBER    56         8.40    4.71      .70        3.30       1.05      1.00         2.30
   OCTOBER      46         7.67    3.53      .46        1.52       1.07      1.02          .58
                                           SEASONAL CONSUMPTIVE IRRIGATION REQUIREMENT   20.59
BEANS
   MAY          52        10.19    5.30      .47        1.29       2.49      2.26          .00
   JUNE         60        10.31    6.19      .82        5.08       1.49      1.40         3.69
   JULY         67        10.42    6.99      .94        6.57        .75       .72         5.86
   AUGUST       66         9.66    6.38      .66        4.21        .48       .46         3.76
                                           SEASONAL CONSUMPTIVE IRRIGATION REQUIREMENT   13.31
CORN
   MAY          52        10.19    5.30      .47        2.17       2.49      2.26          .00
   JUNE         60        10.31    6.19      .67        4.15       1.49      1.40         2.76
   JULY         67        10.42    6.99      .93        6.50        .75       .72         5.79
   AUGUST       66         9.66    6.38      .99        6.32        .48       .46         5.86
   SEPTEMBER    56         8.40    4.71      .84        3.96       1.05      1.00         2.96
                                           SEASONAL CONSUMPTIVE IRRIGATION REQUIREMENT   17.38
GRASS, HAY, AND PASTURE
   APRIL        43         9.02    3.88      .47        1.52       1.95      1.81          .00
   MAY          52        10.19    5.30      .72        3.82       2.49      2.26         1.57
   JUNE         60        10.31    6.19      .89        5.51       1.49      1.40         4.12
   JULY         67        10.42    6.99      .93        6.50        .75       .72         5.79
   AUGUST       66         9.66    6.38      .85        5.42        .48       .46         4.97
   SEPTEMBER    56         8.40    4.71      .66        3.11       1.05      1.00         2.11
   OCTOBER      46         7.67    3.53      .43        1.42       1.07      1.02          .48
                                           SEASONAL CONSUMPTIVE IRRIGATION REQUIREMENT   19.04
POTATOES
   MAY          52        10.19    5.30      .44         .46       2.49      2.26          .00
   JUNE         60        10.31    6.19      .61        3.78       1.49      1.40         2.39
   JULY         67        10.42    6.99      .79        5.52        .75       .72         4.81
   AUGUST       66         9.66    6.38      .84        5.36        .48       .46         4.90
   SEPTEMBER    56         8.40    4.71      .74        3.49       1.05      1.00         2.49
                                           SEASONAL CONSUMPTIVE IRRIGATION REQUIREMENT   14.60
SMALL GRAIN
   MARCH        32         8.30    2.66      .42         .15        .86       .82          .00
   APRIL        43         9.02    3.88      .56        2.18       1.95      1.81          .37
   MAY          52        10.19    5.30      .89        4.72       2.49      2.26         2.47
   JUNE         60        10.31    6.19      .97        6.01       1.49      1.40         4.61
   JULY         67        10.42    6.99      .77        5.38        .75       .72         4.67
                                           SEASONAL CONSUMPTIVE IRRIGATION REQUIREMENT   12.13
SUGAR BEETS
   APRIL        43         9.02    3.88      .42         .55       1.95      1.81          .00
   MAY          52        10.19    5.30      .51        2.71       2.49      2.26          .46
   JUNE         60        10.31    6.19      .76        4.71       1.49      1.40         3.32
   JULY         67        10.42    6.99      .90        6.29        .75       .72         5.58
   AUGUST       66         9.66    6.38      .87        5.55        .48       .46         5.10
   SEPTEMBER    56         8.40    4.71      .69        3.25       1.05      1.00         2.26
   OCTOBER      46         7.67    3.53      .52         .60       1.07      1.02          .27
                                           SEASONAL CONSUMPTIVE IRRIGATION REQUIREMENT   16.98


                                           GILLETTE 2E
	LATITUDE 44-17	               LONGITUDE 105-28         ELEVATION 4556

   MONTH       MEAN	 DAYTIME  FACTOR COEFFICIENT  CONSUMPTIVE  MEAN    EFFECTIVE  CONSUMPTIVE
              MONTHLY	  HOURS		                 USE      MONTHLY  RAINFALL   IRRIGATION
            TEMPERATURE						  RAINFALL            REQUIREMENT
                (T)        (P)      (F)      (K)        (CU)	    (R)      (RE)       (CU-RE)
ALFALFA
   APRIL        43         9.06    3.90      .50        1.43       1.66      1.55          .00
   MAY          53        10.26    5.44      .79        4.30       2.22      2.04         2.27
   JUNE         62        10.41    6.46      .97        6.27       2.58      2.33         3.94
   JULY         72        10.51    7.57     1.01        7.65       1.24      1.17         6.48
   AUGUST       70         9.72    6.81      .90        6.13        .95       .91         5.23
   SEPTEMBER    60         8.41    5.05      .72        3.64       1.09      1.04         2.61
   OCTOBER      48         7.64    3.67      .48        1.77        .71       .68         1.09
                                           SEASONAL CONSUMPTIVE IRRIGATION REQUIREMENT   21.63
GRASS, HAY, AND PASTURE
   APRIL        43         9.06    3.90      .52        1.49       1.66      1.55          .00
   MAY          53        10.26    5.44      .75        4.08       2.22      2.04         2.05
   JUNE         62        10.41    6.46      .91        5.88       2.58      2.33         3.55
   JULY         72        10.51    7.57      .94        7.12       1.24      1.17         5.95
   AUGUST       70         9.72    6.81      .86        5.86        .95       .91         4.95
   SEPTEMBER    60         8.41    5.05      .69        3.49       1.09      1.04         2.46
   OCTOBER      48         7.64    3.67      .46        1.69        .71       .68         1.02
                                           SEASONAL CONSUMPTIVE IRRIGATION REQUIREMENT   19.99
SMALL GRAIN
   MARCH        31         8.29    2.57      .41         .07       1.06      1.01          .00
   APRIL        43         9.06    3.90      .56        2.19       1.66      1.55          .64
   MAY          53        10.26    5.44      .89        4.84       2.22      2.04         2.81
   JUNE         62        10.41    6.46      .97        6.27       2.58      2.33         3.94
   JULY         72        10.51    7.57      .77        5.83       1.24      1.17         4.67
                                           SEASONAL CONSUMPTIVE IRRIGATION REQUIREMENT   12.07


                                           GREEN RIVER
	LATITUDE 41-32                   LONGITUDE 109-29            ELEVATION 6089

   MONTH       MEAN	 DAYTIME  FACTOR COEFFICIENT  CONSUMPTIVE  MEAN    EFFECTIVE  CONSUMPTIVE
              MONTHLY	  HOURS		                 USE      MONTHLY  RAINFALL   IRRIGATION
            TEMPERATURE					          RAINFALL            REQUIREMENT
                (T)        (P)      (F)      (K)	(CU)	    (R)      (RE)       (CU-RE)
ALFALFA
   APRIL        44         8.98    3.96      .52        1.72        .99       .95          .78
   MAY          53        10.10    5.36      .79        4.23       1.20      1.13         3.10
   JUNE         62        10.20    6.33      .97        6.14        .92       .88         5.27
   JULY         70        10.32    7.23     1.01        7.30        .57       .55         6.76
   AUGUST       67         9.61    6.44      .90        5.80        .84       .80         5.00
   SEPTEMBER    58         8.40    4.88      .72        3.51        .65       .62         2.90
   OCTOBER      46         7.70    3.55      .49        1.63        .98       .94          .76
                                           SEASONAL CONSUMPTIVE IRRIGATION REQUIREMENT   24.57
GRASS, HAY, AND PASTURE
   APRIL        44         8.98    3.96      .52        1.72        .99       .95          .78
   MAY          53        10.10    5.36      .75        4.02       1.20      1.13         2.89
   JUNE         62        10.20    6.33      .91        5.76        .92       .88         4.89
   JULY         70        10.32    7.23      .94        6.80        .57       .55         6.25
   AUGUST       67         9.61    6.44      .86        5.54        .84       .80         4.74
   SEPTEMBER    58         8.40    4.88      .69        3.37        .65       .62         2.75
   OCTOBER      46         7.70    3.55      .47        1.56        .98       .94          .69
                                           SEASONAL CONSUMPTIVE IRRIGATION REQUIREMENT   23.00
SMALL GRAIN
   MARCH        33         8.30    2.74      .42         .15        .67       .64          .00
   APRIL        44         8.98    3.96      .56        2.22        .99       .95         1.28
   MAY          53        10.10    5.36      .89        4.77       1.20      1.13         3.64
   JUNE         62        10.20    6.33      .97        6.14        .92       .88         5.27
   JULY         70        10.32    7.23      .77        5.57        .57       .55         5.03
                                           SEASONAL CONSUMPTIVE IRRIGATION REQUIREMENT   15.22


                                           JACKSON
	LATITUDE 43-28                   LONGITUDE 110-46            ELEVATION 6244

   MONTH       MEAN	 DAYTIME  FACTOR COEFFICIENT  CONSUMPTIVE  MEAN    EFFECTIVE  CONSUMPTIVE
              MONTHLY	  HOURS		                 USE      MONTHLY  RAINFALL   IRRIGATION
            TEMPERATURE						  RAINFALL            REQUIREMENT
                (T)        (P)      (F)      (K)	(CU)	    (R)      (RE)       (CU-RE)
ALFALFA
   APRIL        38         9.03    3.44      .40         .51       1.20      1.13          .00
   MAY          47        10.22    4.81      .61        2.94       1.50      1.40         1.54
   JUNE         54        10.35    5.59      .90        5.04       1.51      1.41         3.63
   JULY         61        10.45    6.38      .97        6.19        .75       .72         5.48
   AUGUST       59         9.68    5.72      .87        4.97       1.12      1.06         3.92
   SEPTEMBER    52         8.40    4.37      .66        2.89       1.04       .99         1.90
   OCTOBER      42         7.66    3.22      .42         .96       1.11      1.05          .22
                                           SEASONAL CONSUMPTIVE IRRIGATION REQUIREMENT   16.68
GRASS, HAY, AND PASTURE
   APRIL        38         9.03    3.44      .40         .51       1.20      1.13          .00
   MAY          47        10.22    4.81      .59        2.84       1.50      1.40         1.44
   JUNE         54        10.35    5.59      .84        4.70       1.51      1.41         3.29
   JULY         61        10.45    6.38      .90        5.74        .75       .72         5.03
   AUGUST       59         9.68    5.72      .83        4.75       1.12      1.06         3.69
   SEPTEMBER    52         8.40    4.37      .63        2.76       1.04       .99         1.77
   OCTOBER      42         7.66    3.22      .39         .90       1.11      1.05          .15
                                           SEASONAL CONSUMPTIVE IRRIGATION REQUIREMENT   15.38
SMALL GRAIN
   APRIL        38         9.03    3.44      .50        1.17       1.20      1.13          .04
   MAY          47        10.22    4.81      .78        3.75       1.50      1.40         2.35
   JUNE         54        10.35    5.59     1.00        5.59       1.51      1.41         4.18
   JULY         61        10.45    6.38      .86        5.49        .75       .72         4.77
                                           SEASONAL CONSUMPTIVE IRRIGATION REQUIREMENT   11.35


                                           KAYCEE
	LATITUDE 43-43                   LONGITUDE 106-38            ELEVATION 4660

   MONTH       MEAN	 DAYTIME  FACTOR COEFFICIENT  CONSUMPTIVE  MEAN    EFFECTIVE  CONSUMPTIVE
              MONTHLY	  HOURS		                 USE      MONTHLY  RAINFALL   IRRIGATION
            TEMPERATURE						  RAINFALL            REQUIREMENT
                (T)        (P)      (F)      (K)	(CU)	    (R)      (RE)       (CU-RE)
ALFALFA
   APRIL        43         9.04    3.89      .50        1.37       1.56      1.46          .00
   MAY          52        10.24    5.33      .79        4.21       1.97      1.83         2.39
   JUNE         61        10.37    6.33      .97        6.14       2.20      2.02         4.13
   JULY         69        10.47    7.23     1.01        7.30       1.01       .96         6.34
   AUGUST       68         9.70    6.60      .90        5.94        .66       .63         5.31
   SEPTEMBER    57         8.41    4.80      .72        3.46       1.09      1.04         2.43
   OCTOBER      47         7.65    3.60      .48        1.73        .82       .78          .95
                                           SEASONAL CONSUMPTIVE IRRIGATION REQUIREMENT   21.56
CORN
   MAY          52        10.24    5.33      .47        1.86       1.97      1.83          .04
   JUNE         61        10.37    6.33      .68        4.31       2.20      2.02         2.29
   JULY         69        10.47    7.23      .93        6.72       1.01       .96         5.76
   AUGUST       68         9.70    6.60      .99        6.54        .66       .63         5.91
   SEPTEMBER    57         8.41    4.80      .86        4.13       1.09      1.04         3.10
                                           SEASONAL CONSUMPTIVE IRRIGATION REQUIREMENT   17.11
GRASS, HAY, AND PASTURE
   APRIL        43         9.04    3.89      .53        1.45       1.56      1.46          .00
   MAY          52        10.24    5.33      .75        4.00       1.97      1.83         2.18
   JUNE         61        10.37    6.33      .91        5.76       2.20      2.02         3.75
   JULY         69        10.47    7.23      .94        6.80       1.01       .96         5.84
   AUGUST       68         9.70    6.60      .86        5.68        .66       .63         5.05
   SEPTEMBER    57         8.41    4.80      .69        3.31       1.09      1.04         2.28
   OCTOBER      47         7.65    3.60      .46        1.66        .82       .78          .88
                                           SEASONAL CONSUMPTIVE IRRIGATION REQUIREMENT   19.98
SMALL GRAIN
   MARCH        31         8.30    2.58      .40         .04        .61       .58          .00
   APRIL        43         9.04    3.89      .55        2.14       1.56      1.46          .69
   MAY          52        10.24    5.33      .87        4.64       1.97      1.83         2.81
   JUNE         61        10.37    6.33      .99        6.27       2.20      2.02         4.25
   JULY         69        10.47    7.23      .78        5.64       1.01       .96         4.68
                                           SEASONAL CONSUMPTIVE IRRIGATION REQUIREMENT   12.45


                                           KEMMERER
	LATITUDE 41-47                   LONGITUDE 110-32            ELEVATION 6960

   MONTH       MEAN	 DAYTIME  FACTOR COEFFICIENT  CONSUMPTIVE  MEAN    EFFECTIVE  CONSUMPTIVE
              MONTHLY	  HOURS		                 USE      MONTHLY  RAINFALL   IRRIGATION
            TEMPERATURE						  RAINFALL            REQUIREMENT
                (T)        (P)      (F)      (K)	(CU) 	    (R)      (RE)       (CU-RE)
ALFALFA
   APRIL        39         8.98    3.51      .40         .57        .75       .72          .00
   MAY          48        10.11    4.86      .61        2.97       1.16      1.10         1.87
   JUNE         56        10.22    5.73      .90        5.16       1.09      1.04         4.12
   JULY         63        10.33    6.51      .97        6.32        .70       .67         5.65
   AUGUST       61         9.61    5.87      .87        5.11        .82       .78         4.33
   SEPTEMBER    52         8.40    4.37      .66        2.89        .71       .68         2.21
   OCTOBER      43         7.70    3.32      .42         .99        .70       .67          .52
                                           SEASONAL CONSUMPTIVE IRRIGATION REQUIREMENT   18.72
GRASS, HAY, AND PASTURE
   APRIL        39         8.98    3.51      .40         .57        .75       .72          .00
   MAY          48        10.11    4.86      .59        2.87       1.16      1.10         1.77
   JUNE         56        10.22    5.73      .84        4.81       1.09      1.04         3.78
   JULY         63        10.33    6.51      .90        5.86        .70       .67         5.20
   AUGUST       61         9.61    5.87      .83        4.87        .82       .78         4.09
   SEPTEMBER    52         8.40    4.37      .63        2.76        .71       .68         2.08
   OCTOBER      43         7.70    3.32      .39         .92        .70       .67          .45
                                           SEASONAL CONSUMPTIVE IRRIGATION REQUIREMENT   17.39
SMALL GRAIN
   APRIL        39         8.98    3.51      .51        1.33        .75       .75          .62
   MAY          48        10.11    4.86      .80        3.89       1.16      1.16         2.79
   JUNE         56        10.22    5.73     1.00        5.73       1.09      1.09         4.70
   JULY         63        10.33    6.51      .85        5.54        .70       .67         4.87
                                           SEASONAL CONSUMPTIVE IRRIGATION REQUIREMENT   12.98 


                                           KENDALL
	LATITUDE 43-10                   LONGITUDE 109-59            ELEVATION 7645

   MONTH       MEAN	 DAYTIME  FACTOR COEFFICIENT  CONSUMPTIVE  MEAN    EFFECTIVE  CONSUMPTIVE
              MONTHLY	  HOURS		                 USE      MONTHLY  RAINFALL   IRRIGATION
            TEMPERATURE						  RAINFALL            REQUIREMENT
                (T)        (P)      (F)      (K)	(CU) 	    (R)      (RE)       (CU-RE)
ALFALFA
   MAY          42        10.21    4.29      .49        1.77       1.98      1.84          .00
   JUNE         50        10.32    5.16      .85        4.39       1.85      1.72         2.68
   JULY         56        10.43    5.85      .94        5.50       1.18      1.12         4.38
   AUGUST       55         9.67    5.32      .85        4.53       1.25      1.18         3.35
   SEPTEMBER    47         8.40    3.95      .59        2.33       1.14      1.08         1.26
   OCTOBER      38         7.67    2.92      .36         .41       1.15      1.09          .00
                                           SEASONAL CONSUMPTIVE IRRIGATION REQUIREMENT   11.68
GRASS, HAY, AND PASTURE
   MAY          42        10.21    4.29      .51        1.84       1.98      1.84          .01
   JUNE         50        10.32    5.16      .80        4.13       1.85      1.72         2.42
   JULY         56        10.43    5.85      .89        5.20       1.18      1.12         4.09
   AUGUST       55         9.67    5.32      .79        4.21       1.25      1.18         3.03
   SEPTEMBER    47         8.40    3.95      .56        2.22       1.14      1.08         1.14
   OCTOBER      38         7.67    2.92      .34         .39       1.15      1.09          .00
                                           SEASONAL CONSUMPTIVE IRRIGATION REQUIREMENT   10.70
SMALL GRAIN
   APRIL        30         9.02    2.71      .41         .18       1.20      1.13          .00
   MAY          42        10.21    4.29      .56        2.41       1.98      1.84          .57
   JUNE         50        10.32    5.16      .89        4.60       1.85      1.72         2.88
   JULY         56        10.43    5.85      .96        5.61       1.18      1.12         4.50
                                           SEASONAL CONSUMPTIVE IRRIGATION REQUIREMENT    7.97


                                           LAGRANGE
	LATITUDE 41-38                   LONGITUDE 104-10            ELEVATION 4582

   MONTH       MEAN	 DAYTIME  FACTOR COEFFICIENT  CONSUMPTIVE  MEAN    EFFECTIVE  CONSUMPTIVE
              MONTHLY	  HOURS		                 USE      MONTHLY  RAINFALL   IRRIGATION
            TEMPERATURE					          RAINFALL            REQUIREMENT
                (T)        (P)      (F)      (K)	(CU) 	    (R)      (RE)       (CU-RE)
ALFALFA
   MARCH        35         8.30    2.91      .40         .08        .89       .85          .00
   APRIL        46         8.98    4.14      .57        2.36       1.99      1.85          .52
   MAY          55        10.11    5.57      .83        4.62       2.66      2.40         2.23
   JUNE         64        10.21    6.54      .98        6.41       2.47      2.24         4.17
   JULY         72        10.33    7.44     1.02        7.59       1.68      1.57         6.03
   AUGUST       71         9.61    6.83      .93        6.35       1.44      1.35         5.00
   SEPTEMBER    61         8.40    5.13      .74        3.80       1.41      1.32         2.48
   OCTOBER      50         7.68    3.84      .49        1.89       1.22      1.15          .74
   NOVEMBER     37         6.64    2.46      .34         .20        .57       .55          .07
                                           SEASONAL CONSUMPTIVE IRRIGATION REQUIREMENT   21.25
BEANS
   MAY          55        10.11    5.57      .50        1.80       2.66      2.40          .00
   JUNE         64        10.21    6.54      .83        5.43       2.47      2.24         3.19
   JULY         72        10.33    7.44      .91        6.77       1.68      1.57         5.21
   AUGUST       71         9.61    6.83      .63        4.30       1.44      1.35         2.96
                                           SEASONAL CONSUMPTIVE IRRIGATION REQUIREMENT   11.37
CORN
   APRIL        46         8.98    4.14      .41         .06       1.99      1.85          .00
   MAY          55        10.11    5.57      .49        2.73       2.66      2.40          .34
   JUNE         64        10.21    6.54      .74        4.84       2.47      2.24         2.61
   JULY         72        10.33    7.44      .96        7.15       1.68      1.57         5.58
   AUGUST       71         9.61    6.83      .98        6.69       1.44      1.35         5.35
   SEPTEMBER    61         8.40    5.13      .80        4.10       1.41      1.32         2.79
                                           SEASONAL CONSUMPTIVE IRRIGATION REQUIREMENT   16.67
GRASS, HAY, AND PASTURE
   MARCH        35         8.30    2.91      .42         .08        .89       .85          .00
   APRIL        46         8.98    4.14      .55        2.28       1.99      1.85          .44
   MAY          55        10.11    5.57      .78        4.34       2.66      2.40         1.95
   JUNE         64        10.21    6.54      .92        6.02       2.47      2.24         3.78
   JULY         72        10.33    7.44      .95        7.07       1.68      1.57         5.51
   AUGUST       71         9.61    6.83      .87        5.94       1.44      1.35         4.60
   SEPTEMBER    61         8.40    5.13      .70        3.59       1.41      1.32         2.27
   OCTOBER      50         7.68    3.84      .48        1.85       1.22      1.15          .70
   NOVEMBER     37         6.64    2.46      .34         .20        .57       .55          .07
                                           SEASONAL CONSUMPTIVE IRRIGATION REQUIREMENT   19.33
POTATOES
   MAY          55        10.11    5.57      .46        1.00       2.66      2.40          .00
   JUNE         64        10.21    6.54      .66        4.32       2.47      2.24         2.08
   JULY         72        10.33    7.44      .80        5.96       1.68      1.57         4.39
   AUGUST       71         9.61    6.83      .83        5.67       1.44      1.35         4.32
   SEPTEMBER    61         8.40    5.13      .69        3.54       1.41      1.32         2.22
                                           SEASONAL CONSUMPTIVE IRRIGATION REQUIREMENT   13.03
SMALL GRAIN
   MARCH        35         8.30    2.91      .45         .43        .89       .85          .00
   APRIL        46         8.98    4.14      .64        2.65       1.99      1.85          .81
   MAY          55        10.11    5.57      .95        5.29       2.66      2.40         2.90
   JUNE         64        10.21    6.54      .95        6.21       2.47      2.24         3.98
   JULY         72        10.33    7.44      .70        5.21       1.68      1.57         3.65
                                           SEASONAL CONSUMPTIVE IRRIGATION REQUIREMENT   11.34
SUGAR BEETS
   APRIL        46         8.98    4.14      .42         .93       1.99      1.85          .00
   MAY          55        10.11    5.57      .54        3.01       2.66      2.40          .62
   JUNE         64        10.21    6.54      .80        5.23       2.47      2.24         3.00
   JULY         72        10.33    7.44      .91        6.77       1.68      1.57         5.21
   AUGUST       71         9.61    6.83      .84        5.74       1.44      1.35         4.39
   SEPTEMBER    61         8.40    5.13      .64        3.28       1.41      1.32         1.97
   OCTOBER      50         7.68    3.84      .47         .59       1.22      1.15          .22
                                           SEASONAL CONSUMPTIVE IRRIGATION REQUIREMENT   15.41


                                           LAKE YELLOWSTONE
	LATITUDE 44-33                   LONGITUDE 110-24            ELEVATION 7762

   MONTH       MEAN	 DAYTIME  FACTOR COEFFICIENT  CONSUMPTIVE  MEAN    EFFECTIVE  CONSUMPTIVE
              MONTHLY	  HOURS		                 USE      MONTHLY  RAINFALL   IRRIGATION
            TEMPERATURE					          RAINFALL            REQUIREMENT
                (T)        (P)      (F)      (K)        (CU)	    (R)      (RE)       (CU-RE)
ALFALFA
   MAY          39        10.28    4.01      .45         .76       1.64      1.53          .00
   JUNE         48        10.42    5.01      .81        4.06       2.18      2.00         2.06
   JULY         56        10.53    5.90      .94        5.55       1.38      1.30         4.26
   AUGUST       54         9.73    5.26      .82        4.31       1.38      1.30         3.02
   SEPTEMBER    46         8.42    3.88      .56        2.17       1.31      1.23          .94
   OCTOBER      37         7.62    2.82      .32         .21       1.18      1.12          .00
                                           SEASONAL CONSUMPTIVE IRRIGATION REQUIREMENT   10.30
GRASS, HAY, AND PASTURE
   MAY          39        10.28    4.01      .47         .80       1.64      1.53          .00
   JUNE         48        10.42    5.01      .78        3.91       2.18      2.00         1.91
   JULY         56        10.53    5.90      .87        5.14       1.38      1.30         3.84
   AUGUST       54         9.73    5.26      .78        4.10       1.38      1.30         2.81
   SEPTEMBER    46         8.42    3.88      .50        1.94       1.31      1.23          .71
   OCTOBER      37         7.62    2.82      .31         .20       1.18      1.12          .00
                                           SEASONAL CONSUMPTIVE IRRIGATION REQUIREMENT    9.29
SMALL GRAIN
   MAY          39        10.28    4.01      .50        1.49       1.64      1.53          .00
   JUNE         48        10.42    5.01      .79        3.96       2.18      2.00         1.96
   JULY         56        10.53    5.90     1.00        5.90       1.38      1.30         4.61
                                           SEASONAL CONSUMPTIVE IRRIGATION REQUIREMENT    6.58


                                           LAMAR RS
	LATITUDE 44-54                   LONGITUDE 110-14            ELEVATION 6470

   MONTH       MEAN	 DAYTIME  FACTOR COEFFICIENT  CONSUMPTIVE  MEAN    EFFECTIVE  CONSUMPTIVE
              MONTHLY	  HOURS		                 USE      MONTHLY  RAINFALL   IRRIGATION
            TEMPERATURE					          RAINFALL            REQUIREMENT
                (T)        (P)      (F)      (K)	(CU)	    (R)      (RE)       (CU-RE)
ALFALFA
   APRIL        35         9.08    3.18      .40         .05       1.03       .98          .00
   MAY          45        10.31    4.64      .55        2.56       1.51      1.41         1.15
   JUNE         52        10.46    5.44      .90        4.90       2.11      1.95         2.96
   JULY         58        10.57    6.14      .96        5.89       1.26      1.19         4.71
   AUGUST       56         9.75    5.46      .86        4.70       1.29      1.22         3.49
   SEPTEMBER    49         8.42    4.13      .64        2.65       1.13      1.07         1.58
   OCTOBER      39         7.61    2.97      .41         .55        .96       .92          .14
                                           SEASONAL CONSUMPTIVE IRRIGATION REQUIREMENT   14.03
GRASS, HAY, AND PASTURE
   APRIL        35         9.08    3.18      .40         .05       1.03       .98          .00
   MAY          45        10.31    4.64      .53        2.46       1.51      1.41         1.05
   JUNE         52        10.46    5.44      .82        4.47       2.11      1.95         2.52
   JULY         58        10.57    6.14      .89        5.46       1.26      1.19         4.28
   AUGUST       56         9.75    5.46      .82        4.48       1.29      1.22         3.27
   SEPTEMBER    49         8.42    4.13      .61        2.52       1.13      1.07         1.45
   OCTOBER      39         7.61    2.97      .39         .53        .96       .92          .12
                                           SEASONAL CONSUMPTIVE IRRIGATION REQUIREMENT   12.71
SMALL GRAIN
   APRIL        35         9.08    3.18      .45         .56       1.03       .98          .00
   MAY          45        10.31    4.64      .65        3.02       1.51      1.41         1.61
   JUNE         52        10.46    5.44      .93        5.06       2.11      1.95         3.12
   JULY         58        10.57    6.14      .94        5.77       1.26      1.19         4.58
                                           SEASONAL CONSUMPTIVE IRRIGATION REQUIREMENT    9.33


                                           LANDER AP
	LATITUDE 42-49                   LONGITUDE 108-44            ELEVATION 5563

   MONTH       MEAN	 DAYTIME  FACTOR COEFFICIENT  CONSUMPTIVE  MEAN    EFFECTIVE  CONSUMPTIVE
              MONTHLY	  HOURS		                 USE      MONTHLY  RAINFALL   IRRIGATION
            TEMPERATURE					          RAINFALL            REQUIREMENT
                (T)        (P)      (F)      (K)	(CU)   	    (R)      (RE)       (CU-RE)
ALFALFA
   APRIL        43         9.01    3.88      .52        1.48       2.45      2.22          .00
   MAY          53        10.18    5.40      .80        4.32       2.65      2.39         1.94
   JUNE         62        10.30    6.39      .97        6.20       1.36      1.28         4.93
   JULY         71        10.41    7.40     1.01        7.47        .77       .74         6.74
   AUGUST       69         9.65    6.66      .90        6.00        .47       .45         5.55
   SEPTEMBER    59         8.40    4.96      .72        3.57       1.03       .98         2.60
   OCTOBER      47         7.69    3.62      .48        1.68       1.21      1.14          .58
                                           SEASONAL CONSUMPTIVE IRRIGATION REQUIREMENT   22.34
BEANS
   MAY          53        10.18    5.40      .45        1.10       2.65      2.39          .00
   JUNE         62        10.30    6.39      .80        5.11       1.36      1.28         3.84
   JULY         71        10.41    7.40      .97        7.17        .77       .74         6.44
   AUGUST       69         9.65    6.66      .66        4.40        .47       .45         3.95
                                           SEASONAL CONSUMPTIVE IRRIGATION REQUIREMENT   14.25
CORN
   MAY          53        10.18    5.40      .47        2.05       2.65      2.39          .00
   JUNE         62        10.30    6.39      .69        4.41       1.36      1.28         3.14
   JULY         71        10.41    7.40      .94        6.95        .77       .74         6.22
   AUGUST       69         9.65    6.66      .99        6.60        .47       .45         6.15
   SEPTEMBER    59         8.40    4.96      .86        4.27       1.03       .98         3.29
                                           SEASONAL CONSUMPTIVE IRRIGATION REQUIREMENT   18.81
GRASS, HAY, AND PASTURE
   APRIL        43         9.01    3.88      .52        1.55       2.45      2.22          .00
   MAY          53        10.18    5.40      .75        4.05       2.65      2.39         1.67
   JUNE         62        10.30    6.39      .91        5.82       1.36      1.28         4.54
   JULY         71        10.41    7.40      .94        6.95        .77       .74         6.22
   AUGUST       69         9.65    6.66      .86        5.73        .47       .45         5.28
   SEPTEMBER    59         8.40    4.96      .69        3.42       1.03       .98         2.45
   OCTOBER      47         7.69    3.62      .46        1.61       1.21      1.14          .51
                                           SEASONAL CONSUMPTIVE IRRIGATION REQUIREMENT   20.69
SMALL GRAIN
   MARCH        32         8.30    2.66      .41         .08       1.15      1.09          .00
   APRIL        43         9.01    3.88      .56        2.17       2.45      2.22          .00
   MAY          53        10.18    5.40      .89        4.81       2.65      2.39         2.42
   JUNE         62        10.30    6.39      .97        6.20       1.36      1.28         4.93
   JULY         71        10.41    7.40      .77        5.70        .77       .74         4.96
                                           SEASONAL CONSUMPTIVE IRRIGATION REQUIREMENT   12.33
SUGAR BEETS
   APRIL        43         9.01    3.88      .41         .43       2.45      2.22          .00
   MAY          53        10.18    5.40      .51        2.76       2.65      2.39          .37
   JUNE         62        10.30    6.39      .75        4.79       1.36      1.28         3.52
   JULY         71        10.41    7.40      .90        6.66        .77       .74         5.93
   AUGUST       69         9.65    6.66      .87        5.80        .47       .45         5.35
   SEPTEMBER    59         8.40    4.96      .70        3.47       1.03       .98         2.50
   OCTOBER      47         7.69    3.62      .53         .62       1.21      1.14          .26
                                           SEASONAL CONSUMPTIVE IRRIGATION REQUIREMENT   17.93


                                           LARAMIE
	LATITUDE 41-19                   LONGITUDE 105-35            ELEVATION 7173

   MONTH       MEAN	 DAYTIME  FACTOR COEFFICIENT  CONSUMPTIVE  MEAN    EFFECTIVE  CONSUMPTIVE
              MONTHLY	  HOURS		                 USE      MONTHLY  RAINFALL   IRRIGATION
            TEMPERATURE						  RAINFALL            REQUIREMENT
                (T)        (P)      (F)      (K)        (CU)	    (R)      (RE)       (CU-RE)
ALFALFA
   APRIL        39         8.97    3.50      .41         .58       1.25      1.18          .00
   MAY          49        10.09    4.95      .65        3.22       1.54      1.44         1.78
   JUNE         58        10.19    5.92      .92        5.44       1.46      1.37         4.08
   JULY         65        10.31    6.71      .97        6.51       1.73      1.61         4.90
   AUGUST       64         9.60    6.15      .89        5.47       1.21      1.14         4.33
   SEPTEMBER    55         8.39    4.62      .68        3.14        .81       .77         2.37
   OCTOBER      45         7.72    3.48      .43        1.31        .67       .64          .75
                                           SEASONAL CONSUMPTIVE IRRIGATION REQUIREMENT   18.23
GRASS, HAY, AND PASTURE
   APRIL        39         8.97    3.50      .43         .61       1.25      1.18          .00
   MAY          49        10.09    4.95      .66        3.27       1.54      1.44         1.83
   JUNE         58        10.19    5.92      .87        5.15       1.46      1.37         3.78
   JULY         65        10.31    6.71      .91        6.10       1.73      1.61         4.50
   AUGUST       64         9.60    6.15      .84        5.17       1.21      1.14         4.03
   SEPTEMBER    55         8.39    4.62      .66        3.05        .81       .77         2.28
   OCTOBER      45         7.72    3.48      .41        1.29        .67       .64          .71
                                           SEASONAL CONSUMPTIVE IRRIGATION REQUIREMENT   17.14
SMALL GRAIN
   APRIL        39         8.97    3.50      .51        1.33       1.25      1.18          .15
   MAY          49        10.09    4.95      .79        3.91       1.54      1.44         2.47
   JUNE         58        10.19    5.92     1.00        5.92       1.46      1.37         4.55
   JULY         65        10.31    6.71      .85        5.70       1.73      1.61         4.09
                                           SEASONAL CONSUMPTIVE IRRIGATION REQUIREMENT   11.28


                                           LOVELL
	LATITUDE 44-50                   LONGITUDE 108-24            ELEVATION 3837

   MONTH       MEAN	 DAYTIME  FACTOR COEFFICIENT  CONSUMPTIVE  MEAN    EFFECTIVE  CONSUMPTIVE
              MONTHLY	  HOURS		                 USE      MONTHLY  RAINFALL   IRRIGATION
            TEMPERATURE					          RAINFALL            REQUIREMENT
                (T)        (P)      (F)      (K)	(CU)	    (R)      (RE)       (CU-RE)
ALFALFA
   APRIL        45         9.08    4.09      .58        2.06        .59       .57         1.50
   MAY          56        10.30    5.77      .84        4.85       1.04       .99         3.86
   JUNE         64        10.45    6.69      .98        6.56       1.47      1.38         5.19
   JULY         72        10.56    7.61     1.02        7.76        .62       .59         7.17
   AUGUST       69         9.74    6.73      .94        6.32        .45       .43         5.89
   SEPTEMBER    58         8.42    4.89      .74        3.62        .61       .58         3.04
   OCTOBER      47         7.61    3.58      .50        1.79        .59       .57         1.23
                                           SEASONAL CONSUMPTIVE IRRIGATION REQUIREMENT   27.89
BEANS
   MAY          56        10.30    5.77      .48        1.52       1.04       .99          .54
   JUNE         64        10.45    6.69      .83        5.56       1.47      1.38         4.18
   JULY         72        10.56    7.61      .93        7.08        .62       .59         6.49
   AUGUST       69         9.74    6.73      .65        4.37        .45       .43         3.95
                                           SEASONAL CONSUMPTIVE IRRIGATION REQUIREMENT   15.16
CORN
   MAY          56        10.30    5.77      .47        2.45       1.04       .99         1.47
   JUNE         64        10.45    6.69      .70        4.69       1.47      1.38         3.31
   JULY         72        10.56    7.61      .96        7.30        .62       .59         6.72
   AUGUST       69         9.74    6.73      .97        6.52        .45       .43         6.10
   SEPTEMBER    58         8.42    4.89      .83        4.06        .61       .58         3.48
                                           SEASONAL CONSUMPTIVE IRRIGATION REQUIREMENT   21.08
GRASS, HAY, AND PASTURE
   APRIL        45         9.08    4.09      .57        2.02        .59       .57         1.46
   MAY          56        10.30    5.77      .78        4.50       1.04       .99         3.52
   JUNE         64        10.45    6.69      .92        6.16       1.47      1.38         4.78
   JULY         72        10.56    7.61      .95        7.23        .62       .59         6.64
   AUGUST       69         9.74    6.73      .87        5.85        .45       .43         5.42
   SEPTEMBER    58         8.42    4.89      .70        3.42        .61       .58         2.84
   OCTOBER      47         7.61    3.58      .48        1.72        .59       .57         1.16
                                           SEASONAL CONSUMPTIVE IRRIGATION REQUIREMENT   25.84
POTATOES
   MAY          56        10.30    5.77      .44         .58       1.04       .99          .00
   JUNE         64        10.45    6.69      .62        4.15       1.47      1.38         2.78
   JULY         72        10.56    7.61      .80        6.09        .62       .59         5.50
   AUGUST       69         9.74    6.73      .83        5.58        .45       .43         5.16
   SEPTEMBER    58         8.42    4.89      .73        3.57        .61       .58         2.99
                                           SEASONAL CONSUMPTIVE IRRIGATION REQUIREMENT   16.43
SMALL GRAIN
   MARCH        33         8.29    2.74      .43         .19        .42       .40          .00
   APRIL        45         9.08    4.09      .62        2.54        .59       .57         1.98
   MAY          56        10.30    5.77      .90        5.20       1.04       .99         4.21
   JUNE         64        10.45    6.69      .97        6.49       1.47      1.38         5.12
   JULY         72        10.56    7.61      .73        5.56        .62       .59         4.97
                                           SEASONAL CONSUMPTIVE IRRIGATION REQUIREMENT   16.28
SUGAR BEETS
   APRIL        45         9.08    4.09      .42         .63        .59       .57          .07
   MAY          56        10.30    5.77      .51        2.95       1.04       .99         1.96
   JUNE         64        10.45    6.69      .78        5.22       1.47      1.38         3.85
   JULY         72        10.56    7.61      .90        6.85        .62       .59         6.26
   AUGUST       69         9.74    6.73      .86        5.78        .45       .43         5.36
   SEPTEMBER    58         8.42    4.89      .68        3.33        .61       .58         2.75
   OCTOBER      47         7.61    3.58      .52         .60        .59       .57          .42
                                           SEASONAL CONSUMPTIVE IRRIGATION REQUIREMENT   20.67


                                           LUSK
	LATITUDE 42-46                   LONGITUDE 104-26            ELEVATION 5000

   MONTH       MEAN	 DAYTIME  FACTOR COEFFICIENT  CONSUMPTIVE  MEAN    EFFECTIVE  CONSUMPTIVE
              MONTHLY	  HOURS		                 USE      MONTHLY  RAINFALL   IRRIGATION
            TEMPERATURE						  RAINFALL            REQUIREMENT
                (T)        (P)      (F)      (K)	(CU)	    (R)      (RE)       (CU-RE)
ALFALFA
   APRIL        43         9.01    3.88      .52        1.62       1.91      1.77          .00
   MAY          53        10.18    5.40      .80        4.32       2.68      2.41         1.91
   JUNE         63        10.29    6.49      .97        6.29       2.80      2.51         3.79
   JULY         71        10.40    7.39     1.01        7.46       1.56      1.46         6.01
   AUGUST       69         9.65    6.66      .90        6.00       1.11      1.05         4.95
   SEPTEMBER    59         8.40    4.96      .72        3.57       1.14      1.08         2.50
   OCTOBER      48         7.68    3.69      .48        1.77        .87       .83          .95
   NOVEMBER     34         6.58    2.24      .34         .06        .62       .59          .02
                                           SEASONAL CONSUMPTIVE IRRIGATION REQUIREMENT   20.13
BEANS
   MAY          53        10.18    5.40      .46        1.21       2.68      2.41          .00
   JUNE         63        10.29    6.49      .81        5.26       2.80      2.51         2.75
   JULY         71        10.40    7.39      .96        7.09       1.56      1.46         5.64
   AUGUST       69         9.65    6.66      .65        4.33       1.11      1.05         3.28
                                           SEASONAL CONSUMPTIVE IRRIGATION REQUIREMENT   11.68
CORN
   MAY          53        10.18    5.40      .48        2.18       2.68      2.41          .00
   JUNE         63        10.29    6.49      .70        4.54       2.80      2.51         2.04
   JULY         71        10.40    7.39      .96        7.09       1.56      1.46         5.64
   AUGUST       69         9.65    6.66      .99        6.60       1.11      1.05         5.55
   SEPTEMBER    59         8.40    4.96      .80        3.97       1.14      1.08         2.89
                                           SEASONAL CONSUMPTIVE IRRIGATION REQUIREMENT   16.13
GRASS, HAY, AND PASTURE
   APRIL        43         9.01    3.88      .52        1.62       1.91      1.77          .00
   MAY          53        10.18    5.40      .75        4.05       2.68      2.41         1.64
   JUNE         63        10.29    6.49      .91        5.90       2.80      2.51         3.40
   JULY         71        10.40    7.39      .94        6.95       1.56      1.46         5.49
   AUGUST       69         9.65    6.66      .86        5.73       1.11      1.05         4.68
   SEPTEMBER    59         8.40    4.96      .69        3.42       1.14      1.08         2.35
   OCTOBER      48         7.68    3.69      .46        1.70        .87       .83          .87
   NOVEMBER     34         6.58    2.24      .32         .05        .62       .59          .01
                                           SEASONAL CONSUMPTIVE IRRIGATION REQUIREMENT   18.46
POTATOES
   MAY          53        10.18    5.40      .43         .38       2.68      2.41          .00
   JUNE         63        10.29    6.49      .60        3.89       2.80      2.51         1.39
   JULY         71        10.40    7.39      .79        5.84       1.56      1.46         4.38
   AUGUST       69         9.65    6.66      .84        5.60       1.11      1.05         4.55
   SEPTEMBER    59         8.40    4.96      .75        3.72       1.14      1.08         2.65
                                           SEASONAL CONSUMPTIVE IRRIGATION REQUIREMENT   12.98
SMALL GRAIN
   MARCH        33         8.30    2.74      .41         .11        .82       .78          .00
   APRIL        43         9.01    3.88      .56        2.17       1.91      1.77          .41
   MAY          53        10.18    5.40      .89        4.81       2.68      2.41         2.40
   JUNE         63        10.29    6.49      .97        6.29       2.80      2.51         3.79
   JULY         71        10.40    7.39      .77        5.69       1.56      1.46         4.24
                                           SEASONAL CONSUMPTIVE IRRIGATION REQUIREMENT   10.84
SUGAR BEETS
   APRIL        43         9.01    3.88      .41         .48       1.91      1.77          .00
   MAY          53        10.18    5.40      .51        2.76       2.68      2.41          .35
   JUNE         63        10.29    6.49      .75        4.87       2.80      2.51         2.36
   JULY         71        10.40    7.39      .90        6.65       1.56      1.46         5.20
   AUGUST       69         9.65    6.66      .87        5.80       1.11      1.05         4.75
   SEPTEMBER    59         8.40    4.96      .70        3.47       1.14      1.08         2.40
   OCTOBER      48         7.68    3.69      .53         .64        .87       .83          .37
                                           SEASONAL CONSUMPTIVE IRRIGATION REQUIREMENT   15.43


                                           MIDWEST
	LATITUDE 43-25                   LONGITUDE 106-17            ELEVATION 4840

   MONTH       MEAN	 DAYTIME  FACTOR COEFFICIENT  CONSUMPTIVE  MEAN    EFFECTIVE  CONSUMPTIVE
              MONTHLY	  HOURS		                 USE      MONTHLY  RAINFALL   IRRIGATION
            TEMPERATURE					          RAINFALL            REQUIREMENT
                (T)        (P)      (F)      (K)	(CU)	    (R)      (RE)       (CU-RE)
ALFALFA
   APRIL        45         9.03    4.07      .58        2.20       1.72      1.60          .61
   MAY          55        10.22    5.63      .84        4.73       2.21      2.03         2.70
   JUNE         64        10.35    6.63      .98        6.50       1.74      1.62         4.88
   JULY         73        10.45    7.63     1.02        7.79       1.19      1.13         6.67
   AUGUST       71         9.68    6.88      .94        6.47        .80       .76         5.71
   SEPTEMBER    61         8.40    5.13      .74        3.80        .93       .89         2.91
   OCTOBER      50         7.66    3.83      .50        1.92        .90       .86         1.06
   NOVEMBER     35         6.53    2.29      .35         .11        .72       .69          .02
                                           SEASONAL CONSUMPTIVE IRRIGATION REQUIREMENT   24.57
GRASS, HAY, AND PASTURE
   APRIL        45         9.03    4.07      .56        2.13       1.72      1.60          .53
   MAY          55        10.22    5.63      .78        4.39       2.21      2.03         2.37
   JUNE         64        10.35    6.63      .92        6.10       1.74      1.62         4.48
   JULY         73        10.45    7.63      .95        7.25       1.19      1.13         6.13
   AUGUST       71         9.68    6.88      .87        5.98        .80       .76         5.22
   SEPTEMBER    61         8.40    5.13      .70        3.59        .93       .89         2.71
   OCTOBER      50         7.66    3.83      .48        1.84        .90       .86          .99
   NOVEMBER     35         6.53    2.29      .35         .11        .72       .69          .02
                                           SEASONAL CONSUMPTIVE IRRIGATION REQUIREMENT   22.46
SMALL GRAIN
   MARCH        34         8.30    2.83      .44         .29       1.01       .96          .00
   APRIL        45         9.03    4.07      .61        2.48       1.72      1.60          .89
   MAY          55        10.22    5.63      .89        5.01       2.21      2.03         2.99
   JUNE         64        10.35    6.63      .97        6.43       1.74      1.62         4.81
   JULY         73        10.45    7.63      .70        5.34       1.19      1.13         4.22
                                           SEASONAL CONSUMPTIVE IRRIGATION REQUIREMENT   12.92


                                           MORAN 5WNW
	LATITUDE 43-51                   LONGITUDE 110-35            ELEVATION 6798

   MONTH       MEAN	 DAYTIME  FACTOR COEFFICIENT  CONSUMPTIVE  MEAN    EFFECTIVE  CONSUMPTIVE
              MONTHLY	  HOURS		                 USE      MONTHLY  RAINFALL   IRRIGATION
            TEMPERATURE					          RAINFALL            REQUIREMENT
                (T)        (P)      (F)      (K)	(CU)	    (R)      (RE)       (CU-RE)
ALFALFA
   MAY          44        10.24    4.51      .56        2.37       1.85      1.72          .65
   JUNE         51        10.38    5.30      .90        4.77       1.77      1.65         3.13
   JULY         58        10.48    6.08      .96        5.84        .97       .93         4.92
   AUGUST       56         9.70    5.44      .86        4.68       1.30      1.22         3.46
   SEPTEMBER    48         8.41    4.04      .64        2.59       1.28      1.21         1.39
   OCTOBER      39         7.64    2.98      .40         .54       1.45      1.36          .00
                                           SEASONAL CONSUMPTIVE IRRIGATION REQUIREMENT   13.55
GRASS, HAY, AND PASTURE
   MAY          44        10.24    4.51      .54        2.28       1.85      1.72          .57
   JUNE         51        10.38    5.30      .82        4.35       1.77      1.65         2.70
   JULY         58        10.48    6.08      .89        5.41        .97       .93         4.49
   AUGUST       56         9.70    5.44      .82        4.46       1.30      1.22         3.24
   SEPTEMBER    48         8.41    4.04      .61        2.47       1.28      1.21         1.27
   OCTOBER      39         7.64    2.98      .39         .53       1.45      1.36          .00
                                           SEASONAL CONSUMPTIVE IRRIGATION REQUIREMENT   12.28
SMALL GRAIN
   APRIL        33         9.04    2.99      .43         .34       1.73      1.61          .00
   MAY          44        10.24    4.51      .64        2.89       1.85      1.72         1.17
   JUNE         51        10.38    5.30      .92        4.88       1.77      1.65         3.23
   JULY         58        10.48    6.08      .95        5.78        .97       .93         4.86
                                           SEASONAL CONSUMPTIVE IRRIGATION REQUIREMENT    9.27


                                           NEWCASTLE
	LATITUDE 43-51                   LONGITUDE 104-13            ELEVATION 4265

   MONTH       MEAN	 DAYTIME  FACTOR COEFFICIENT  CONSUMPTIVE  MEAN    EFFECTIVE  CONSUMPTIVE
              MONTHLY	  HOURS		                 USE      MONTHLY  RAINFALL   IRRIGATION
            TEMPERATURE						  RAINFALL            REQUIREMENT
                (T)        (P)      (F)      (K)	(CU)	    (R)      (RE)       (CU-RE)
ALFALFA
   APRIL        44         9.04    3.98      .58        2.00       1.37      1.29          .72
   MAY          55        10.24    5.64      .83        4.68       2.32      2.12         2.57
   JUNE         65        10.38    6.75      .98        6.62       2.58      2.33         4.29
   JULY         74        10.48    7.76     1.02        7.92       1.64      1.53         6.39
   AUGUST       72         9.70    6.99      .93        6.50       1.53      1.43         5.07
   SEPTEMBER    61         8.41    5.14      .74        3.80        .88       .84         2.97
   OCTOBER      49         7.64    3.75      .49        1.84        .75       .72         1.13
   NOVEMBER     34         6.51    2.22      .36         .06        .48       .46          .03
                                           SEASONAL CONSUMPTIVE IRRIGATION REQUIREMENT   23.17
GRASS, HAY, AND PASTURE
   APRIL        44         9.04    3.98      .57        1.97       1.37      1.29          .69
   MAY          55        10.24    5.64      .78        4.40       2.32      2.12         2.29
   JUNE         65        10.38    6.75      .92        6.21       2.58      2.33         3.89
   JULY         74        10.48    7.76      .95        7.37       1.64      1.53         5.85
   AUGUST       72         9.70    6.99      .87        6.08       1.53      1.43         4.65
   SEPTEMBER    61         8.41    5.14      .70        3.60        .88       .84         2.76
   OCTOBER      49         7.64    3.75      .48        1.80        .75       .72         1.09
   NOVEMBER     34         6.51    2.22      .35         .05        .48       .46          .03
                                           SEASONAL CONSUMPTIVE IRRIGATION REQUIREMENT   21.24
SMALL GRAIN
   MARCH        32         9.04    2.90      .62         .29       1.37      1.29          .00
   APRIL        44         9.04    3.98      .62        2.47       1.37      1.29         1.19
   MAY          55        10.24    5.64      .90        5.07       2.32      2.12         2.96
   JUNE         65        10.38    6.75      .97        6.55       2.58      2.33         4.22
   JULY         74        10.48    7.76      .73        5.67       1.64      1.53         4.14
                                           SEASONAL CONSUMPTIVE IRRIGATION REQUIREMENT   12.52

  
                                           PATHFINDER DAM
	LATITUDE 42-28                   LONGITUDE 106-51            ELEVATION 5930

   MONTH       MEAN	 DAYTIME  FACTOR COEFFICIENT  CONSUMPTIVE  MEAN    EFFECTIVE  CONSUMPTIVE
              MONTHLY	  HOURS		                 USE      MONTHLY  RAINFALL   IRRIGATION
            TEMPERATURE						  RAINFALL            REQUIREMENT
                (T)        (P)      (F)      (K)	(CU)	    (R)      (RE)       (CU-RE)
ALFALFA
   APRIL        43         9.00    3.87      .52        1.61       1.11      1.05          .57
   MAY          53        10.16    5.39      .80        4.31       1.59      1.49         2.83
   JUNE         63        10.27    6.48      .97        6.28       1.19      1.13         5.16
   JULY         72        10.38    7.48     1.01        7.55       1.03       .98         6.58
   AUGUST       70         9.64    6.75      .90        6.08        .88       .84         5.24
   SEPTEMBER    60         8.40    5.04      .72        3.63        .83       .79         2.85
   OCTOBER      49         7.69    3.77      .48        1.81        .86       .82         1.00
   NOVEMBER     34         6.59    2.25      .00         .00        .49       .47          .00
                                           SEASONAL CONSUMPTIVE IRRIGATION REQUIREMENT   24.23
GRASS, HAY, AND PASTURE
   APRIL        43         9.00    3.87      .52        1.56       1.11      1.05          .51
   MAY          53        10.16    5.39      .75        4.04       1.59      1.49         2.56
   JUNE         63        10.27    6.48      .91        5.89       1.19      1.13         4.77
   JULY         72        10.38    7.48      .94        7.03       1.03       .98         6.05
   AUGUST       70         9.64    6.75      .86        5.81        .88       .84         4.97
   SEPTEMBER    60         8.40    5.04      .69        3.48        .83       .79         2.69
   OCTOBER      49         7.69    3.77      .46        1.74        .86       .82          .92
   NOVEMBER     34         6.59    2.25      .32         .05        .49       .47          .02
                                           SEASONAL CONSUMPTIVE IRRIGATION REQUIREMENT   22.52
SMALL GRAIN
   MARCH        32         8.30    2.66      .41         .12        .63       .60          .00
   APRIL        43         9.00    3.87      .56        2.17       1.11      1.05         1.12
   MAY          53        10.16    5.39      .89        4.80       1.59      1.49         3.32
   JUNE         63        10.27    6.48      .97        6.28       1.19      1.13         5.16
   JULY         72        10.38    7.48      .77        5.76       1.03       .98         4.78
                                           SEASONAL CONSUMPTIVE IRRIGATION REQUIREMENT   14.39


                                           PINE BLUFFS
	LATITUDE 41-11                   LONGITUDE 104-04            ELEVATION 5047

   MONTH       MEAN	 DAYTIME  FACTOR COEFFICIENT  CONSUMPTIVE  MEAN    EFFECTIVE  CONSUMPTIVE
              MONTHLY	  HOURS		                 USE      MONTHLY  RAINFALL   IRRIGATION
            TEMPERATURE						  RAINFALL            REQUIREMENT
                (T)        (P)      (F)      (K)	(CU)	    (R)      (RE)       (CU-RE)
ALFALFA
   MARCH        34         8.31    2.83      .40         .04        .73       .70          .00
   APRIL        45         8.96    4.04      .57        2.30       1.61      1.50          .80
   MAY          55        10.08    5.55      .83        4.61       2.61      2.36         2.26
   JUNE         65        10.16    6.61      .98        6.48       2.52      2.28         4.20
   JULY         72        10.30    7.42     1.02        7.57       1.86      1.73         5.85
   AUGUST       70         9.59    6.72      .93        6.25       1.61      1.50         4.75
   SEPTEMBER    61         8.39    5.12      .74        3.79       1.20      1.13         2.66
   OCTOBER      50         7.72    3.86      .49        1.90        .65       .62         1.28
   NOVEMBER     36         6.67    2.41      .35         .09        .40       .38          .05
                                           SEASONAL CONSUMPTIVE IRRIGATION REQUIREMENT   21.86
BEANS
   MAY          55        10.08    5.55      .50        1.79       2.61      2.36          .00
   JUNE         65        10.16    6.61      .83        5.49       2.52      2.28         3.21
   JULY         72        10.30    7.42      .91        6.75       1.86      1.73         5.03
   AUGUST       70         9.59    6.72      .63        4.23       1.61      1.50         2.74
                                           SEASONAL CONSUMPTIVE IRRIGATION REQUIREMENT   10.98
CORN
   APRIL        45         8.96    4.04      .41         .06       1.61      1.50          .00
   MAY          55        10.08    5.55      .49        2.72       2.61      2.36          .37
   JUNE         65        10.16    6.61      .74        4.89       2.52      2.28         2.62
   JULY         72        10.30    7.42      .96        7.12       1.86      1.73         5.40
   AUGUST       70         9.59    6.72      .98        6.58       1.61      1.50         5.08
   SEPTEMBER    61         8.39    5.12      .80        4.10       1.20      1.13         2.97
                                           SEASONAL CONSUMPTIVE IRRIGATION REQUIREMENT   16.45
GRASS, HAY, AND PASTURE
   MARCH        34         8.31    2.83      .42         .04        .73       .70          .00
   APRIL        45         8.96    4.04      .55        2.22       1.61      1.50          .72
   MAY          55        10.08    5.55      .78        4.33       2.61      2.36         1.98
   JUNE         65        10.16    6.61      .92        6.08       2.52      2.28         3.80
   JULY         72        10.30    7.42      .95        7.05       1.86      1.73         5.33
   AUGUST       70         9.59    6.72      .87        5.85       1.61      1.50         4.35
   SEPTEMBER    61         8.39    5.12      .70        3.59       1.20      1.13         2.46
   OCTOBER      50         7.72    3.86      .48        1.86        .65       .62         1.24
   NOVEMBER     36         6.67    2.41      .35         .09        .40       .38          .05
                                           SEASONAL CONSUMPTIVE IRRIGATION REQUIREMENT   19.94
POTATOES
   MAY          55        10.08    5.55      .46         .99       2.61      2.36          .00
   JUNE         65        10.16    6.61      .66        4.36       2.52      2.28         2.09
   JULY         72        10.30    7.42      .80        5.94       1.86      1.73         4.21
   AUGUST       70         9.59    6.72      .83        5.58       1.61      1.50         4.08
   SEPTEMBER    61         8.39    5.12      .69        3.54       1.20      1.13         2.41
                                           SEASONAL CONSUMPTIVE IRRIGATION REQUIREMENT   12.80
SMALL GRAIN
   MARCH        34         8.31    2.83      .45         .42        .73       .70          .00
   APRIL        45         8.96    4.04      .64        2.59       1.61      1.50         1.09
   MAY          55        10.08    5.55      .95        5.27       2.61      2.36         2.92
   JUNE         65        10.16    6.61      .95        6.28       2.52      2.28         4.00
   JULY         72        10.30    7.42      .70        5.20       1.86      1.73         3.50
                                           SEASONAL CONSUMPTIVE IRRIGATION REQUIREMENT   11.52
SUGAR BEETS
   APRIL        45         8.96    4.04      .42         .91       1.61      1.50          .00
   MAY          55        10.08    5.55      .54        3.00       2.61      2.36          .65
   JUNE         65        10.16    6.61      .80        5.29       2.52      2.28         3.01
   JULY         72        10.30    7.42      .91        6.75       1.86      1.73         5.03
   AUGUST       70         9.59    6.72      .84        5.64       1.61      1.50         4.14
   SEPTEMBER    61         8.39    5.12      .64        3.28       1.20      1.13         2.15
   OCTOBER      50         7.72    3.86      .47         .59        .65       .62          .39
                                           SEASONAL CONSUMPTIVE IRRIGATION REQUIREMENT   15.39


                                           PINEDALE
	LATITUDE 42-52                   LONGITUDE 109-52            ELEVATION 7175

   MONTH       MEAN	 DAYTIME  FACTOR COEFFICIENT  CONSUMPTIVE  MEAN    EFFECTIVE  CONSUMPTIVE
              MONTHLY	  HOURS		                 USE      MONTHLY  RAINFALL   IRRIGATION
            TEMPERATURE						  RAINFALL            REQUIREMENT
                (T)        (P)      (F)      (K)        (CU)	    (R)      (RE)       (CU-RE)
ALFALFA
   MAY          44        10.18    4.48      .55        2.31       1.27      1.20         1.12
   JUNE         53        10.30    5.46      .90        4.92       1.21      1.14         3.78
   JULY         60        10.41    6.25      .96        6.00        .82       .78         5.22
   AUGUST       57         9.66    5.51      .86        4.74       1.02       .97         3.77
   SEPTEMBER    49         8.40    4.12      .64        2.64       1.06      1.01         1.64
   OCTOBER      39         7.67    3.00      .41         .52        .89       .85          .16
                                           SEASONAL CONSUMPTIVE IRRIGATION REQUIREMENT   15.70
GRASS, HAY, AND PASTURE
   MAY          44        10.18    4.48      .54        2.27       1.27      1.20         1.07
   JUNE         53        10.30    5.46      .82        4.48       1.21      1.14         3.34
   JULY         60        10.41    6.25      .89        5.56        .82       .78         4.78
   AUGUST       57         9.66    5.51      .82        4.52       1.02       .97         3.55
   SEPTEMBER    49         8.40    4.12      .61        2.52       1.06      1.01         1.51
   OCTOBER      39         7.67    3.00      .39         .49        .89       .85          .14
                                           SEASONAL CONSUMPTIVE IRRIGATION REQUIREMENT   14.41
SMALL GRAIN
   APRIL        35         9.01    3.16      .43         .35        .82       .78          .00
   MAY          44        10.18    4.48      .64        2.87       1.27      1.20         1.68
   JUNE         53        10.30    5.46      .92        5.03       1.21      1.14         3.89
   JULY         60        10.41    6.25      .95        5.94        .82       .78         5.16
                                           SEASONAL CONSUMPTIVE IRRIGATION REQUIREMENT   10.74


                                           POWELL
	LATITUDE 44-45                   LONGITUDE 108-46            ELEVATION 4378

   MONTH       MEAN	 DAYTIME  FACTOR COEFFICIENT  CONSUMPTIVE  MEAN    EFFECTIVE  CONSUMPTIVE
              MONTHLY	  HOURS		                 USE      MONTHLY  RAINFALL   IRRIGATION
            TEMPERATURE						  RAINFALL            REQUIREMENT
                (T)        (P)      (F)      (K)	(CU)	    (R)      (RE)       (CU-RE)
ALFALFA
   APRIL        45         9.07    4.09      .58        2.14        .47       .45         1.69
   MAY          55        10.29    5.66      .84        4.76       1.02       .97         3.79
   JUNE         63        10.44    6.58      .98        6.45       1.33      1.25         5.20
   JULY         71        10.54    7.49     1.02        7.64        .60       .57         7.07
   AUGUST       69         9.74    6.73      .94        6.32        .49       .47         5.86
   SEPTEMBER    59         8.42    4.97      .74        3.68        .58       .56         3.13
   OCTOBER      48         7.63    3.67      .50        1.84        .41       .39         1.45
   NOVEMBER     32         6.46    2.07      .36         .03        .20       .19          .02
                                           SEASONAL CONSUMPTIVE IRRIGATION REQUIREMENT   28.21
BEANS
   MAY          55        10.29    5.66      .49        1.62       1.02       .97          .65
   JUNE         63        10.44    6.58      .77        5.07       1.33      1.25         3.82
   JULY         71        10.54    7.49      .92        6.89        .60       .57         6.32
   AUGUST       69         9.74    6.73      .64        4.31        .49       .47         3.84
                                           SEASONAL CONSUMPTIVE IRRIGATION REQUIREMENT   14.64
CORN
   MAY          55        10.29    5.66      .49        2.60       1.02       .97         1.63
   JUNE         63        10.44    6.58      .72        4.74       1.33      1.25         3.49
   JULY         71        10.54    7.49      .97        7.26        .60       .57         6.69
   AUGUST       69         9.74    6.73      .99        6.66        .49       .47         6.19
   SEPTEMBER    59         8.42    4.97      .86        4.28        .58       .56         3.73
                                           SEASONAL CONSUMPTIVE IRRIGATION REQUIREMENT   21.74
GRASS, HAY, AND PASTURE
   APRIL        45         9.07    4.09      .56        2.06        .47       .45         1.62
   MAY          55        10.29    5.66      .78        4.42       1.02       .97         3.45
   JUNE         63        10.44    6.58      .92        6.06       1.33      1.25         4.81
   JULY         71        10.54    7.49      .95        7.11        .60       .57         6.54
   AUGUST       69         9.74    6.73      .87        5.85        .49       .47         5.39
   SEPTEMBER    59         8.42    4.97      .70        3.48        .58       .56         2.93
   OCTOBER      48         7.63    3.67      .48        1.76        .41       .39         1.37
   NOVEMBER     32         6.46    2.07      .36         .03        .20       .19          .02
                                           SEASONAL CONSUMPTIVE IRRIGATION REQUIREMENT   26.14
POTATOES
   MAY          55        10.29    5.66      .44         .65       1.02       .97          .00
   JUNE         63        10.44    6.58      .63        4.15       1.33      1.25         2.90
   JULY         71        10.54    7.49      .78        5.84        .60       .57         5.27
   AUGUST       69         9.74    6.73      .83        5.58        .49       .47         5.12
   SEPTEMBER    59         8.42    4.97      .72        3.58        .58       .56         3.03
                                           SEASONAL CONSUMPTIVE IRRIGATION REQUIREMENT   16.33
SMALL GRAIN
   MARCH        34         8.29    2.82      .43         .24        .21       .20          .04 
   APRIL        45         9.07    4.09      .62        2.54        .47       .45         2.09
   MAY          55        10.29    5.66      .90        5.10       1.02       .97         4.13
   JUNE         63        10.44    6.58      .97        6.38       1.33      1.25         5.14
   JULY         71        10.54    7.49      .73        5.47        .60       .57         4.90
                                           SEASONAL CONSUMPTIVE IRRIGATION REQUIREMENT   16.30
SUGAR BEETS
   APRIL        45         9.07    4.09      .42         .69        .47       .45          .24
   MAY          55        10.29    5.66      .52        2.95       1.02       .97         1.98
   JUNE         63        10.44    6.58      .78        5.14       1.33      1.25         3.89
   JULY         71        10.54    7.49      .91        6.81        .60       .57         6.24
   AUGUST       69         9.74    6.73      .85        5.72        .49       .47         5.25
   SEPTEMBER    59         8.42    4.97      .67        3.33        .58       .56         2.78
   OCTOBER      48         7.63    3.67      .50         .60        .41       .39          .47
                                           SEASONAL CONSUMPTIVE IRRIGATION REQUIREMENT   20.87


                                           RAWLINS AP
	LATITUDE 41-48                   LONGITUDE 107-12            ELEVATION 6736

   MONTH       MEAN	 DAYTIME  FACTOR COEFFICIENT  CONSUMPTIVE  MEAN    EFFECTIVE  CONSUMPTIVE
              MONTHLY	  HOURS		                 USE      MONTHLY  RAINFALL   IRRIGATION
            TEMPERATURE						  RAINFALL            REQUIREMENT
                (T)        (P)      (F)      (K)	(CU)	    (R)      (RE)       (CU-RE)
ALFALFA
   APRIL        45         9.07    4.09      .49        1.09       1.07      1.02          .07
   MAY          55        10.29    5.66      .76        3.85       1.43      1.34         2.51
   JUNE         63        10.44    6.58      .94        5.77        .90       .86         4.91
   JULY         71        10.54    7.49      .99        6.96        .87       .83         6.13
   AUGUST       69         9.74    6.73      .90        5.71        .76       .73         4.99
   SEPTEMBER    59         8.42    4.97      .70        3.30        .96       .92         2.39
   OCTOBER      48         7.63    3.67      .46        1.41        .98       .94          .57
                                           SEASONAL CONSUMPTIVE IRRIGATION REQUIREMENT   21.58
GRASS, HAY, AND PASTURE
   APRIL        45         9.07    4.09      .50        1.11       1.07      1.02          .10
   MAY          55        10.29    5.66      .72        3.64       1.43      1.34         2.31
   JUNE         63        10.44    6.58      .89        5.46        .90       .86         4.61
   JULY         71        10.54    7.49      .93        6.54        .87       .83         5.71
   AUGUST       69         9.74    6.73      .85        5.40        .76       .73         4.67
   SEPTEMBER    59         8.42    4.97      .66        3.11        .96       .92         2.20
   OCTOBER      48         7.63    3.67      .43        1.32        .98       .94          .48
                                           SEASONAL CONSUMPTIVE IRRIGATION REQUIREMENT   20.08
SMALL GRAIN
   APRIL        45         9.07    4.09      .55        1.90       1.07      1.02          .89
   MAY          55        10.29    5.66      .87        4.40       1.43      1.34         3.07
   JUNE         63        10.44    6.58      .99        6.08        .90       .86         5.22
   JULY         71        10.54    7.49      .78        5.48        .87       .83         4.66
                                           SEASONAL CONSUMPTIVE IRRIGATION REQUIREMENT   13.84


                                           RIVERTON
	LATITUDE 43-01                   LONGITUDE 108-23            ELEVATION 4954

   MONTH       MEAN	 DAYTIME  FACTOR COEFFICIENT  CONSUMPTIVE  MEAN    EFFECTIVE  CONSUMPTIVE
              MONTHLY	  HOURS		                 USE      MONTHLY  RAINFALL   IRRIGATION
            TEMPERATURE						  RAINFALL            REQUIREMENT
                (T)        (P)      (F)      (K)	(CU)	    (R)      (RE)       (CU-RE)
ALFALFA
   APRIL        44         9.02    3.97      .52        1.86       1.32      1.24          .62
   MAY          54        10.19    5.51      .80        4.41       1.81      1.68         2.73
   JUNE         63        10.31    6.50      .97        6.31       1.26      1.19         5.12
   JULY         70        10.42    7.30     1.01        7.37        .67       .64         6.74
   AUGUST       68         9.66    6.57      .90        5.92        .44       .42         5.50
   SEPTEMBER    58         8.40    4.88      .72        3.51        .76       .73         2.79
   OCTOBER      46         7.67    3.53      .49        1.57        .82       .78          .86
                                           SEASONAL CONSUMPTIVE IRRIGATION REQUIREMENT   24.37
BEANS
   MAY          54        10.19    5.51      .49        1.57       1.81      1.68          .00
   JUNE         63        10.31    6.50      .77        5.01       1.26      1.19         3.82
   JULY         70        10.42    7.30      .92        6.72        .67       .64         6.08
   AUGUST       68         9.66    6.57      .64        4.21        .44       .42         3.79
                                           SEASONAL CONSUMPTIVE IRRIGATION REQUIREMENT   13.70
CORN
   MAY          54        10.19    5.51      .49        2.53       1.81      1.68          .85
   JUNE         63        10.31    6.50      .72        4.68       1.26      1.19         3.50
   JULY         70        10.42    7.30      .97        7.08        .67       .64         6.44
   AUGUST       68         9.66    6.57      .99        6.51        .44       .42         6.09
   SEPTEMBER    58         8.40    4.88      .86        4.19        .76       .73         3.47
                                           SEASONAL CONSUMPTIVE IRRIGATION REQUIREMENT   20.36
GRASS, HAY, AND PASTURE
   APRIL        44         9.02    3.97      .52        1.86       1.32      1.24          .62
   MAY          54        10.19    5.51      .75        4.13       1.81      1.68         2.45
   JUNE         63        10.31    6.50      .91        5.92       1.26      1.19         4.73
   JULY         70        10.42    7.30      .94        6.86        .67       .64         6.22
   AUGUST       68         9.66    6.57      .86        5.65        .44       .42         5.24
   SEPTEMBER    58         8.40    4.88      .69        3.37        .76       .73         2.64
   OCTOBER      46         7.67    3.53      .48        1.53        .82       .78          .83
                                           SEASONAL CONSUMPTIVE IRRIGATION REQUIREMENT   22.75
POTATOES
   MAY          54        10.19    5.51      .44         .63       1.81      1.68          .00
   JUNE         63        10.31    6.50      .63        4.10       1.26      1.19         2.91
   JULY         70        10.42    7.30      .78        5.69        .67       .64         5.06
   AUGUST       68         9.66    6.57      .83        5.46        .44       .42         5.04
   SEPTEMBER    58         8.40    4.88      .72        3.51        .76       .73         2.79
                                           SEASONAL CONSUMPTIVE IRRIGATION REQUIREMENT   15.81
SMALL GRAIN
   MARCH        33         8.30    2.74      .43         .23        .52       .50          .00
   APRIL        44         9.02    3.97      .62        2.47       1.32      1.24         1.23
   MAY          54        10.19    5.51      .90        4.96       1.81      1.68         3.28
   JUNE         63        10.31    6.50      .97        6.31       1.26      1.19         5.12
   JULY         70        10.42    7.30      .73        5.33        .67       .64         4.69
                                           SEASONAL CONSUMPTIVE IRRIGATION REQUIREMENT   14.33
SUGAR BEETS
   APRIL        44         9.02    3.97      .42         .67       1.32      1.24          .00
   MAY          54        10.19    5.51      .52        2.87       1.81      1.68         1.19
   JUNE         63        10.31    6.50      .78        5.07       1.26      1.19         3.89
   JULY         70        10.42    7.30      .91        6.64        .67       .64         6.01
   AUGUST       68         9.66    6.57      .85        5.59        .44       .42         5.17
   SEPTEMBER    58         8.40    4.88      .67        3.27        .76       .73         2.55
   OCTOBER      46         7.67    3.53      .50         .57        .82       .78          .32
                                           SEASONAL CONSUMPTIVE IRRIGATION REQUIREMENT   19.13


                                          SAGE 4NNW
	LATITUDE 41-52                   LONGITUDE 111-01            ELEVATION 6321

   MONTH       MEAN	 DAYTIME  FACTOR COEFFICIENT  CONSUMPTIVE  MEAN    EFFECTIVE  CONSUMPTIVE
              MONTHLY	  HOURS		                 USE      MONTHLY  RAINFALL   IRRIGATION
            TEMPERATURE						  RAINFALL            REQUIREMENT
                (T)        (P)      (F)      (K)	(CU)	    (R)      (RE)       (CU-RE)
ALFALFA
   APRIL        39         8.98    3.51      .40         .57        .77       .74          .00
   MAY          48        10.12    4.86      .61        2.97       1.22      1.15         1.82
   JUNE         56        10.23    5.73      .90        5.16        .96       .92         4.25
   JULY         64        10.34    6.62      .97        6.42        .66       .63         5.80
   AUGUST       61         9.61    5.87      .87        5.11        .85       .81         4.30
   SEPTEMBER    52         8.40    4.37      .66        2.89        .70       .67         2.22
   OCTOBER      41         7.70    3.16      .43         .88        .84       .80          .37
                                           SEASONAL CONSUMPTIVE IRRIGATION REQUIREMENT   18.76
GRASS, HAY, AND PASTURE
   APRIL        39         8.98    3.51      .40         .57        .77       .74          .00
   MAY          48        10.12    4.86      .59        2.87       1.22      1.15         1.72
   JUNE         56        10.23    5.73      .84        4.82        .96       .92         3.91
   JULY         64        10.34    6.62      .90        5.96        .66       .63         5.33
   AUGUST       61         9.61    5.87      .83        4.87        .85       .81         4.06
   SEPTEMBER    52         8.40    4.37      .63        2.76        .70       .67         2.09
   OCTOBER      41         7.70    3.16      .40         .82        .84       .80          .30
                                           SEASONAL CONSUMPTIVE IRRIGATION REQUIREMENT   17.43
SMALL GRAIN
   APRIL        39         8.98    3.51      .51        1.37        .77       .74          .64
   MAY          48        10.12    4.86      .80        3.89       1.22      1.15         2.74
   JUNE         56        10.23    5.73     1.00        5.73        .96       .92         4.82
   JULY         64        10.34    6.62      .85        5.63        .66       .63         5.00
                                           SEASONAL CONSUMPTIVE IRRIGATION REQUIREMENT   13.22


                                          SARATOGA
	LATITUDE 41-27                   LONGITUDE 106-48            ELEVATION 6790

   MONTH       MEAN	 DAYTIME  FACTOR COEFFICIENT  CONSUMPTIVE  MEAN    EFFECTIVE  CONSUMPTIVE
              MONTHLY	  HOURS		                 USE      MONTHLY  RAINFALL   IRRIGATION
            TEMPERATURE						  RAINFALL            REQUIREMENT
                (T)        (P)      (F)      (K)        (CU)	    (R)      (RE)       (CU-RE)
ALFALFA
   APRIL        40         8.98    3.60      .41         .74        .94       .90          .00
   MAY          50        10.10    5.05      .65        3.29       1.25      1.18         2.11
   JUNE         58        10.20    5.92      .92        5.45       1.04       .99         4.46
   JULY         66        10.32    6.82      .97        6.61        .85       .81         5.80
   AUGUST       64         9.61    6.16      .89        5.48        .97       .93         4.56
   SEPTEMBER    55         8.40    4.62      .68        3.15        .75       .72         2.43
   OCTOBER      44         7.70    3.39      .43        1.23        .91       .87          .50
                                           SEASONAL CONSUMPTIVE IRRIGATION REQUIREMENT   19.88
CORN
   MAY          50        10.10    5.05      .45        1.25       1.25      1.18          .08
   JUNE         58        10.20    5.92      .63        3.73       1.04       .99         2.75
   JULY         66        10.32    6.82      .91        6.20        .85       .81         5.40
   AUGUST       64         9.61    6.16      .99        6.09        .97       .93         5.17
   SEPTEMBER    55         8.40    4.62      .93        4.30        .75       .72         3.59
                                           SEASONAL CONSUMPTIVE IRRIGATION REQUIREMENT   16.98
GRASS, HAY, AND PASTURE
   APRIL        40         8.98    3.60      .43         .78        .94       .90          .00
   MAY          50        10.10    5.05      .66        3.34       1.25      1.18         2.16
   JUNE         58        10.20    5.92      .87        5.15       1.04       .99         4.17
   JULY         66        10.32    6.82      .91        6.20        .85       .81         5.40
   AUGUST       64         9.61    6.16      .84        5.17        .97       .93         4.25
   SEPTEMBER    55         8.40    4.62      .66        3.05        .75       .72         2.34
   OCTOBER      44         7.70    3.39      .41        1.17        .91       .87          .44
                                           SEASONAL CONSUMPTIVE IRRIGATION REQUIREMENT   18.77
SMALL GRAIN
   APRIL        40         8.98    3.60      .52        1.62        .94       .90          .73
   MAY          50        10.10    5.05      .81        4.10       1.25      1.18         2.92
   JUNE         58        10.20    5.92     1.00        5.92       1.04       .99         4.93
   JULY         66        10.32    6.82      .84        5.73        .85       .81         4.92
                                           SEASONAL CONSUMPTIVE IRRIGATION REQUIREMENT   13.51


                                          SHERIDAN AP
	LATITUDE 44-46                   LONGITUDE 106-58            ELEVATION 3964

   MONTH       MEAN	 DAYTIME  FACTOR COEFFICIENT  CONSUMPTIVE  MEAN    EFFECTIVE  CONSUMPTIVE
              MONTHLY	  HOURS		                 USE      MONTHLY  RAINFALL   IRRIGATION
            TEMPERATURE						  RAINFALL            REQUIREMENT
                (T)        (P)      (F)      (K)	(CU)	    (R)      (RE)       (CU-RE)
ALFALFA
   APRIL        44         9.07    4.00      .52        1.60       2.16      1.99          .00
   MAY          54        10.29    5.56      .79        4.39       2.57      2.32         2.08
   JUNE         62        10.44    6.48      .97        6.28       2.57      2.32         3.97
   JULY         71        10.54    7.49     1.01        7.56       1.19      1.13         6.44
   AUGUST       70         9.74    6.82      .90        6.14        .90       .86         5.29
   SEPTEMBER    59         8.42    4.97      .72        3.58       1.17      1.11         2.48
   OCTOBER      48         7.63    3.67      .48        1.76       1.13      1.07          .70
   NOVEMBER     33         6.46    2.14      .33         .05        .80       .76          .00
                                           SEASONAL CONSUMPTIVE IRRIGATION REQUIREMENT   20.96
BEANS
   MAY          54        10.29    5.56      .49        1.23       2.57      2.32          .00
   JUNE         62        10.44    6.48      .80        5.18       2.57      2.32         2.87
   JULY         71        10.54    7.49      .97        7.26       1.19      1.13         6.14
   AUGUST       70         9.74    6.82      .66        4.50        .90       .86         3.65
                                           SEASONAL CONSUMPTIVE IRRIGATION REQUIREMENT   12.67
CORN
   MAY          54        10.29    5.56      .48        2.16       2.57      2.32          .00
   JUNE         62        10.44    6.48      .68        4.41       2.57      2.32         2.09
   JULY         71        10.54    7.49      .95        7.11       1.19      1.13         5.99
   AUGUST       70         9.74    6.82      .99        6.75        .90       .86         5.90
   SEPTEMBER    59         8.42    4.97      .81        4.03       1.17      1.11         2.93
                                           SEASONAL CONSUMPTIVE IRRIGATION REQUIREMENT   16.92
GRASS, HAY, AND PASTURE
   APRIL        44         9.07    4.00      .52        1.60       2.16      1.99          .00
   MAY          54        10.29    5.56      .75        4.17       2.57      2.32         1.86
   JUNE         62        10.44    6.48      .91        5.90       2.57      2.32         3.58
   JULY         71        10.54    7.49      .94        7.04       1.19      1.13         5.92
   AUGUST       70         9.74    6.82      .86        5.87        .90       .86         5.01
   SEPTEMBER    59         8.42    4.97      .69        3.43       1.17      1.11         2.33
   OCTOBER      48         7.63    3.67      .46        1.69       1.13      1.07          .62
   NOVEMBER     33         6.46    2.14      .32         .05        .80       .76          .00
                                           SEASONAL CONSUMPTIVE IRRIGATION REQUIREMENT   19.33
POTATOES
   MAY          54        10.29    5.56      .42         .31       2.57      2.32          .00
   JUNE         62        10.44    6.48      .58        3.76       2.57      2.32         1.44
   JULY         71        10.54    7.49      .78        5.84       1.19      1.13         4.72
   AUGUST       70         9.74    6.82      .84        5.73        .90       .86         4.88
   SEPTEMBER    59         8.42    4.97      .76        3.78       1.17      1.11         2.68
                                           SEASONAL CONSUMPTIVE IRRIGATION REQUIREMENT   13.73
SMALL GRAIN
   MARCH        31         8.29    2.57      .41         .07       1.42      1.33          .00
   APRIL        44         9.07    4.00      .56        2.24       2.16      1.99          .26
   MAY          54        10.29    5.56      .89        4.95       2.57      2.32         2.63
   JUNE         62        10.44    6.48      .97        6.28       2.57      2.32         3.97
   JULY         71        10.54    7.49      .77        5.77       1.19      1.13         4.65
                                           SEASONAL CONSUMPTIVE IRRIGATION REQUIREMENT   11.51
SUGAR BEETS
   APRIL        44         9.07    4.00      .41         .44       2.16      1.99          .00
   MAY          54        10.29    5.56      .51        2.84       2.57      2.32          .52
   JUNE         62        10.44    6.48      .75        4.86       2.57      2.32         2.54
   JULY         71        10.54    7.49      .90        6.74       1.19      1.13         5.62
   AUGUST       70         9.74    6.82      .87        5.94        .90       .86         5.08
   SEPTEMBER    59         8.42    4.97      .70        3.48       1.17      1.11         2.38
   OCTOBER      48         7.63    3.67      .53         .63       1.13      1.07          .29
                                           SEASONAL CONSUMPTIVE IRRIGATION REQUIREMENT   16.44


                                          SOUTH PASS CITY
	LATITUDE 42-28                   LONGITUDE 108-48            ELEVATION 7875

   MONTH       MEAN	 DAYTIME  FACTOR COEFFICIENT  CONSUMPTIVE  MEAN    EFFECTIVE  CONSUMPTIVE
              MONTHLY	  HOURS		                 USE      MONTHLY  RAINFALL   IRRIGATION
            TEMPERATURE						  RAINFALL            REQUIREMENT
                (T)        (P)      (F)      (K)	(CU)	    (R)      (RE)       (CU-RE)
ALFALFA
   MAY          42        10.16    4.27      .49        1.56       1.32      1.24          .32
   JUNE         51        10.27    5.24      .85        4.46       1.35      1.27         3.19
   JULY         58        10.38    6.03      .94        5.66        .78       .75         4.92
   AUGUST       56         9.64    5.40      .85        4.59        .90       .86         3.74
   SEPTEMBER    47         8.40    3.95      .59        2.33        .82       .78         1.56
   OCTOBER      34         7.69    2.62      .38         .26        .98       .94          .02
                                           SEASONAL CONSUMPTIVE IRRIGATION REQUIREMENT   13.75
GRASS, HAY, AND PASTURE
   MAY          42        10.16    4.27      .52        1.65       1.32      1.24          .41
   JUNE         51        10.27    5.24      .80        4.20       1.35      1.27         2.93
   JULY         58        10.38    6.03      .89        5.36        .78       .75         4.62
   AUGUST       56         9.64    5.40      .79        4.27        .90       .86         3.41
   SEPTEMBER    47         8.40    3.95      .56        2.22        .82       .78         1.44
   OCTOBER      34         7.69    2.62      .35         .24        .98       .94          .00
                                           SEASONAL CONSUMPTIVE IRRIGATION REQUIREMENT   12.83
SMALL GRAIN
   APRIL        32         9.00    2.88      .40         .08       1.50      1.40          .00
   MAY          42        10.16    4.27      .56        2.39       1.32      1.24         1.16
   JUNE         51        10.27    5.24      .89        4.67       1.35      1.27         3.40
   JULY         58        10.38    6.03      .97        5.84        .78       .75         5.10
                                           SEASONAL CONSUMPTIVE IRRIGATION REQUIREMENT    9.67


                                          SPENCER 10NE
	LATITUDE 43-26                   LONGITUDE 104-10            ELEVATION 3800

   MONTH       MEAN	 DAYTIME  FACTOR COEFFICIENT  CONSUMPTIVE  MEAN    EFFECTIVE  CONSUMPTIVE
              MONTHLY	  HOURS		                 USE      MONTHLY  RAINFALL   IRRIGATION
            TEMPERATURE						  RAINFALL            REQUIREMENT
                (T)        (P)      (F)      (K)	(CU)	    (R)      (RE)       (CU-RE)
ALFALFA
   MARCH        33         8.30    2.74      .40         .54        .95       .91          .00
   APRIL        45         9.03    4.07      .57        2.32       1.65      1.54          .79
   MAY          55        10.22    5.63      .83        4.67       2.38      2.17         2.51
   JUNE         65        10.35    6.73      .98        6.60       2.41      2.19         4.41
   JULY         74        10.45    7.74     1.02        7.89       1.64      1.53         6.37
   AUGUST       71         9.68    6.88      .93        6.40       1.25      1.18         5.22
   SEPTEMBER    59         8.40    4.96      .74        3.67        .90       .86         2.82
   OCTOBER      47         7.66    3.61      .49        1.77        .83       .79          .98
                                           SEASONAL CONSUMPTIVE IRRIGATION REQUIREMENT   23.10
CORN
   APRIL        45         9.03    4.07      .44         .90       1.65      1.54          .00
   MAY          55        10.22    5.63      .59        3.32       2.38      2.17         1.16
   JUNE         65        10.35    6.73      .89        5.99       2.41      2.19         3.81
   JULY         74        10.45    7.74      .99        7.66       1.64      1.53         6.13
   AUGUST       71         9.68    6.88      .93        6.40       1.25      1.18         5.22
   SEPTEMBER    59         8.40    4.96      .65        3.23        .90       .86         2.37
                                           SEASONAL CONSUMPTIVE IRRIGATION REQUIREMENT   18.70
GRASS, HAY, AND PASTURE
   MARCH        33         8.30    2.74      .40         .54        .95       .91          .00
   APRIL        45         9.03    4.07      .55        2.24       1.65      1.54          .70
   MAY          55        10.22    5.63      .78        4.39       2.38      2.17         2.23
   JUNE         65        10.35    6.73      .92        6.19       2.41      2.19         4.01
   JULY         74        10.45    7.74      .95        7.35       1.64      1.53         5.83
   AUGUST       71         9.68    6.88      .87        5.98       1.25      1.18         4.81
   SEPTEMBER    59         8.40    4.96      .70        3.47        .90       .86         2.62
   OCTOBER      47         7.66    3.61      .48        1.73        .83       .79          .94
                                           SEASONAL CONSUMPTIVE IRRIGATION REQUIREMENT   21.15
SMALL GRAIN
   MARCH        33         8.30    2.74      .51        1.13        .95       .91          .23
   APRIL        45         9.03    4.07      .81        3.30       1.65      1.54         1.76
   MAY          55        10.22    5.63     1.00        5.63       2.38      2.17         3.46
   JUNE         65        10.35    6.73      .84        5.66       2.41      2.19         3.47
   JULY         74        10.45    7.74      .57        4.41       1.64      1.53         2.89
                                           SEASONAL CONSUMPTIVE IRRIGATION REQUIREMENT   11.82


                                          SUNDANCE
	LATITUDE 44-24                   LONGITUDE 104-21            ELEVATION 4750

   MONTH       MEAN	 DAYTIME  FACTOR COEFFICIENT  CONSUMPTIVE  MEAN    EFFECTIVE  CONSUMPTIVE
              MONTHLY	  HOURS		                 USE      MONTHLY  RAINFALL   IRRIGATION
            TEMPERATURE						  RAINFALL            REQUIREMENT
                (T)        (P)      (F)      (K)	(CU)	    (R)      (RE)       (CU-RE)
ALFALFA
   APRIL        41         9.06    3.72      .48        1.19       1.67      1.56          .00
   MAY          51        10.27    5.24      .76        3.99       2.47      2.24         1.75
   JUNE         60        10.41    6.25      .94        5.88       3.34      2.90         2.99
   JULY         68        10.51    7.15      .99        7.08       1.65      1.54         5.55
   AUGUST       67         9.72    6.52      .90        5.87       1.12      1.06         4.81
   SEPTEMBER    57         8.41    4.80      .70        3.36       1.31      1.23         2.13
   OCTOBER      46         7.63    3.51      .45        1.53        .94       .90          .67
                                           SEASONAL CONSUMPTIVE IRRIGATION REQUIREMENT   17.90
CORN
   MAY          51        10.27    5.24      .47        1.75       2.47      2.24          .00
   JUNE         60        10.41    6.25      .70        4.38       3.34      2.90         1.49
   JULY         68        10.51    7.15      .96        6.87       1.65      1.54         5.33
   AUGUST       67         9.72    6.52      .97        6.32       1.12      1.06         5.26
   SEPTEMBER    57         8.41    4.80      .83        3.98       1.31      1.23         2.75
                                           SEASONAL CONSUMPTIVE IRRIGATION REQUIREMENT   14.85
GRASS, HAY, AND PASTURE
   APRIL        41         9.06    3.72      .50        1.24       1.67      1.56          .00
   MAY          51        10.27    5.24      .72        3.78       2.47      2.24         1.54
   JUNE         60        10.41    6.25      .89        5.56       3.34      2.90         2.67
   JULY         68        10.51    7.15      .93        6.65       1.65      1.54         5.12
   AUGUST       67         9.72    6.52      .85        5.54       1.12      1.06         4.48
   SEPTEMBER    57         8.41    4.80      .66        3.18       1.31      1.23         1.95
   OCTOBER      46         7.63    3.51      .43        1.47        .94       .90          .60
                                           SEASONAL CONSUMPTIVE IRRIGATION REQUIREMENT   16.38
SMALL GRAIN
   APRIL        41         9.06    3.72      .55        2.05       1.67      1.56          .00
   MAY          51        10.27    5.24      .87        4.56       2.47      2.24         2.33
   JUNE         60        10.41    6.25      .99        6.19       3.34      2.90         3.30
   JULY         68        10.51    7.15      .78        5.58       1.65      1.54         4.04
                                           SEASONAL CONSUMPTIVE IRRIGATION REQUIREMENT   10.17


                                          SUNSHINE 2ENE
	LATITUDE 44-03                   LONGITUDE 108-59            ELEVATION 6444

   MONTH       MEAN	 DAYTIME  FACTOR COEFFICIENT  CONSUMPTIVE  MEAN    EFFECTIVE  CONSUMPTIVE
              MONTHLY	  HOURS		                 USE      MONTHLY  RAINFALL   IRRIGATION
            TEMPERATURE						  RAINFALL            REQUIREMENT
                (T)        (P)      (F)      (K)	(CU)	    (R)      (RE)       (CU-RE)
ALFALFA
   APRIL        37         9.05    3.35      .40         .50       2.42      2.20          .00
   MAY          46        10.25    4.72      .61        2.88       3.04      2.70          .19
   JUNE         53        10.39    5.51      .90        4.96       2.70      2.43         2.54
   JULY         61        10.49    6.40      .97        6.21       1.87      1.74         4.48
   AUGUST       59         9.71    5.73      .87        4.99       1.21      1.14         3.85
   SEPTEMBER    52         8.41    4.38      .66        2.89       1.33      1.25         1.64
   OCTOBER      43         7.64    3.29      .42        1.03       1.16      1.10          .22
                                           SEASONAL CONSUMPTIVE IRRIGATION REQUIREMENT   12.92
GRASS, HAY, AND PASTURE
   APRIL        37         9.05    3.35      .40         .50       2.42      2.20          .00
   MAY          46        10.25    4.72      .59        2.79       3.04      2.70          .09
   JUNE         53        10.39    5.51      .84        4.63       2.70      2.43         2.21
   JULY         61        10.49    6.40      .90        5.76       1.87      1.74         4.03
   AUGUST       59         9.71    5.73      .83        4.76       1.21      1.14         3.62
   SEPTEMBER    52         8.41    4.38      .63        2.76       1.33      1.25         1.51
   OCTOBER      43         7.64    3.29      .38         .93       1.16      1.10          .12
                                           SEASONAL CONSUMPTIVE IRRIGATION REQUIREMENT   11.59
SMALL GRAIN
   APRIL        37         9.05    3.35      .50        1.14       2.42      2.20          .00
   MAY          46        10.25    4.72      .78        3.68       3.04      2.70          .99
   JUNE         53        10.39    5.51     1.00        5.51       2.70      2.43         3.09
   JULY         61        10.49    6.40      .86        5.51       1.87      1.74         3.78
                                           SEASONAL CONSUMPTIVE IRRIGATION REQUIREMENT    7.86


                                          THERMOPOLIS
	LATITUDE 43-38                   LONGITUDE 108-13            ELEVATION 4327

   MONTH       MEAN	 DAYTIME  FACTOR COEFFICIENT  CONSUMPTIVE  MEAN    EFFECTIVE  CONSUMPTIVE
              MONTHLY	  HOURS		                 USE      MONTHLY  RAINFALL   IRRIGATION
            TEMPERATURE						  RAINFALL            REQUIREMENT
                (T)        (P)      (F)      (K)	(CU)	    (R)      (RE)       (CU-RE)
ALFALFA
   APRIL        46         9.04    4.16      .57        2.38       1.66      1.55          .83
   MAY          56        10.23    5.73      .83        4.76       1.99      1.85         2.92
   JUNE         64        10.36    6.64      .98        6.50       1.69      1.58         4.93
   JULY         72        10.48    7.55     1.02        7.70        .68       .65         7.06
   AUGUST       70         9.67    6.07      .93        5.65        .59       .57         5.09
   SEPTEMBER    60         8.41    5.05      .74        3.74       1.00       .95         2.79
   OCTOBER      48         7.65    3.68      .49        1.80        .98       .94          .87
                                           SEASONAL CONSUMPTIVE IRRIGATION REQUIREMENT   24.49
BEANS
   MAY          56        10.23    5.73      .50        1.85       1.99      1.85          .01
   JUNE         64        10.36    6.64      .79        5.24       1.69      1.58         3.67
   JULY         72        10.48    7.55      .91        6.87        .68       .65         6.23
   AUGUST       70         9.67    6.77      .62        4.20        .59       .57         3.64
                                           SEASONAL CONSUMPTIVE IRRIGATION REQUIREMENT   13.56
CORN
   MAY          56        10.23    5.73      .49        2.81       1.99      1.85          .97
   JUNE         64        10.36    6.64      .74        4.91       1.69      1.58         3.34
   JULY         72        10.48    7.55      .96        7.25        .68       .65         6.60
   AUGUST       70         9.67    6.77      .98        6.64        .59       .57         6.08
   SEPTEMBER    60         8.41    5.05      .84        4.24       1.00       .95         3.29
                                           SEASONAL CONSUMPTIVE IRRIGATION REQUIREMENT   20.29
GRASS, HAY, AND PASTURE
   APRIL        46         9.04    4.16      .55        2.29       1.66      1.55          .75
   MAY          56        10.23    5.73      .78        4.47       1.99      1.85         2.63
   JUNE         64        10.36    6.64      .92        6.10       1.69      1.58         4.53
   JULY         72        10.48    7.55      .95        7.17        .68       .65         6.53
   AUGUST       70         9.67    6.77      .87        5.89        .59       .57         5.33
   SEPTEMBER    60         8.41    5.05      .70        3.54       1.00       .95         2.59
   OCTOBER      48         7.65    3.68      .48        1.77        .98       .94          .84
                                           SEASONAL CONSUMPTIVE IRRIGATION REQUIREMENT   23.20
POTATOES
   MAY          56        10.23    5.73      .46         .94       1.99      1.85          .00
   JUNE         64        10.36    6.64      .66        4.38       1.69      1.58         2.81
   JULY         72        10.48    7.55      .80        6.04        .68       .65         5.40
   AUGUST       70         9.67    6.77      .83        5.62        .59       .57         5.06
   SEPTEMBER    60         8.41    5.05      .69        3.49       1.00       .95         2.54
                                           SEASONAL CONSUMPTIVE IRRIGATION REQUIREMENT   15.82
SMALL GRAIN
   MARCH        35         8.29    2.91      .45         .43        .68       .65          .00
   APRIL        46         9.04    4.16      .64        2.67       1.66      1.55         1.12
   MAY          56        10.23    5.73      .95        5.45       1.99      1.85         3.61
   JUNE         64        10.36    6.64      .95        6.30       1.69      1.58         4.73
   JULY         72        10.48    7.55      .70        5.29        .68       .65         4.64
                                           SEASONAL CONSUMPTIVE IRRIGATION REQUIREMENT   14.11
SUGAR BEETS
   APRIL        46         9.04    4.16      .42         .88       1.66      1.55          .00
   MAY          56        10.23    5.73      .54        3.10       1.99      1.85         1.26
   JUNE         64        10.36    6.64      .80        5.31       1.69      1.58         3.74
   JULY         72        10.48    7.55      .91        6.87        .68       .65         6.23
   AUGUST       70         9.67    6.77      .84        5.69        .59       .57         5.13
   SEPTEMBER    60         8.41    5.05      .64        3.23       1.00       .95         2.28
   OCTOBER      48         7.65    3.68      .47         .56        .98       .94          .26
                                           SEASONAL CONSUMPTIVE IRRIGATION REQUIREMENT   18.91


                                          TORRINGTON EXP FARM
	LATITUDE 42-05                   LONGITUDE 104-13            ELEVATION 4098

   MONTH       MEAN	 DAYTIME  FACTOR COEFFICIENT  CONSUMPTIVE  MEAN    EFFECTIVE  CONSUMPTIVE
              MONTHLY	  HOURS		                 USE      MONTHLY  RAINFALL   IRRIGATION
            TEMPERATURE					          RAINFALL            REQUIREMENT
                (T)        (P)      (F)      (K)	(CU)	    (R)      (RE)       (CU-RE)
ALFALFA
   MARCH        36         8.30    2.99      .40         .12        .76       .73          .00
   APRIL        46         8.99    4.14      .57        2.36       1.80      1.67          .69
   MAY          56        10.13    5.68      .83        4.71       2.55      2.31         2.41
   JUNE         66        10.24    6.76      .98        6.63       2.75      2.47         4.16
   JULY         73        10.35    7.56     1.02        7.71       1.41      1.32         6.39
   AUGUST       70         9.62    6.74      .93        6.27        .95       .91         5.37
   SEPTEMBER    60         8.40    5.04      .74        3.73       1.01       .96         2.78
   OCTOBER      50         7.70    3.85      .49        1.89        .72       .69         1.21
   NOVEMBER     36         6.62    2.39      .36         .09        .47       .45          .05
                                           SEASONAL CONSUMPTIVE IRRIGATION REQUIREMENT   23.06
BEANS
   MAY          56        10.13    5.68      .52        2.19       2.55      2.31          .00
   JUNE         66        10.24    6.76      .85        5.75       2.75      2.47         3.28
   JULY         73        10.35    7.56      .89        6.73       1.41      1.32         5.41
   AUGUST       70         9.62    6.74      .57        3.84        .95       .91         2.94
                                           SEASONAL CONSUMPTIVE IRRIGATION REQUIREMENT   11.65
CORN
   APRIL        46         8.99    4.14      .41         .17       1.80      1.67          .00
   MAY          56        10.13    5.68      .50        2.84       2.55      2.31          .54
   JUNE         66        10.24    6.76      .70        4.74       2.75      2.47         2.27
   JULY         73        10.35    7.56      .97        7.33       1.41      1.32         6.01
   AUGUST       70         9.62    6.74      .98        6.60        .95       .91         5.70
   SEPTEMBER    60         8.40    5.04      .84        4.24       1.01       .96         3.28
                                           SEASONAL CONSUMPTIVE IRRIGATION REQUIREMENT   17.82
GRASS, HAY, AND PASTURE
   MARCH        36         8.30    2.99      .41         .12        .76       .73          .00
   APRIL        46         8.99    4.14      .55        2.28       1.80      1.67          .61
   MAY          56        10.13    5.68      .78        4.43       2.55      2.31         2.13
   JUNE         66        10.24    6.76      .92        6.22       2.75      2.47         3.76
   JULY         73        10.35    7.56      .95        7.18       1.41      1.32         5.86
   AUGUST       70         9.62    6.74      .87        5.86        .95       .91         4.96
   SEPTEMBER    60         8.40    5.04      .70        3.53       1.01       .96         2.57
   OCTOBER      50         7.70    3.85      .48        1.85        .72       .69         1.17
   NOVEMBER     36         6.62    2.39      .35         .09        .47       .45          .04
                                           SEASONAL CONSUMPTIVE IRRIGATION REQUIREMENT   21.12
POTATOES
   MAY          56        10.13    5.68      .48        1.23       2.55      2.31          .00
   JUNE         66        10.24    6.76      .68        4.60       2.75      2.47         2.14
   JULY         73        10.35    7.56      .82        6.20       1.41      1.32         4.88
   AUGUST       70         9.62    6.74      .82        5.53        .95       .91         4.62
   SEPTEMBER    60         8.40    5.04      .66        3.33       1.01       .96         2.37
                                           SEASONAL CONSUMPTIVE IRRIGATION REQUIREMENT   14.02
SMALL GRAIN
   MARCH        36         8.30    2.99      .45         .57        .76       .73          .00
   APRIL        46         8.99    4.14      .64        2.65       1.80      1.67          .98
   MAY          56        10.13    5.68      .95        5.39       2.55      2.31         3.09
   JUNE         66        10.24    6.76      .95        6.43       2.75      2.47         3.96
   JULY         73        10.35    7.56      .70        5.29       1.41      1.32         3.97
                                           SEASONAL CONSUMPTIVE IRRIGATION REQUIREMENT   12.02
SUGAR BEETS
   APRIL        46         8.99    4.14      .43        1.07       1.80      1.67          .00
   MAY          56        10.13    5.68      .56        3.18       2.55      2.31          .88
   JUNE         66        10.24    6.76      .80        5.41       2.75      2.47         2.95
   JULY         73        10.35    7.56      .91        6.88       1.41      1.32         5.56
   AUGUST       70         9.62    6.74      .83        5.59        .95       .91         4.69
   SEPTEMBER    60         8.40    5.04      .63        3.18       1.01       .96         2.22
   OCTOBER      50         7.70    3.85      .45         .56        .72       .69          .34
                                           SEASONAL CONSUMPTIVE IRRIGATION REQUIREMENT   16.66


                                          WAMSUTTER
	LATITUDE 41-41                   LONGITUDE 107-59            ELEVATION 6815

   MONTH       MEAN	 DAYTIME  FACTOR COEFFICIENT  CONSUMPTIVE  MEAN    EFFECTIVE  CONSUMPTIVE
              MONTHLY	  HOURS		                 USE      MONTHLY  RAINFALL   IRRIGATION
            TEMPERATURE						  RAINFALL            REQUIREMENT
                (T)        (P)      (F)      (K)        (CU)	    (R)      (RE)       (CU-RE)
ALFALFA
   APRIL        41         8.98    3.69      .48       11.56        .61       .58          .98
   MAY          51        10.11    5.16      .76        3.92        .83       .79         3.14
   JUNE         60        10.21    6.13      .94        5.76        .76       .73         5.04
   JULY         67        10.33    6.93      .99        6.86        .62       .59         6.27
   AUGUST       64         9.61    6.16      .90        5.54        .73       .70         4.85
   SEPTEMBER    55         8.40    4.62      .70        3.24        .63       .60         2.64
   OCTOBER      44         7.68    3.38      .48        1.31        .54       .52          .90
                                           SEASONAL CONSUMPTIVE IRRIGATION REQUIREMENT  133.82
GRASS, HAY, AND PASTURE
   APRIL        41         8.98    3.69      .50        1.17        .61       .58          .59
   MAY          51        10.11    5.16      .72        3.72        .83       .79         2.93
   JUNE         60        10.21    6.13      .89        5.46        .76       .73         4.74
   JULY         67        10.33    6.93      .93        6.44        .62       .59         5.85
   AUGUST       64         9.61    6.16      .85        5.23        .73       .70         4.54
   SEPTEMBER    55         8.40    4.62      .66        3.05        .63       .60         2.46
   OCTOBER      44         7.68    3.38      .44        1.20        .54       .52          .79
                                           SEASONAL CONSUMPTIVE IRRIGATION REQUIREMENT   21.90
SMALL GRAIN
   APRIL        41         8.98    3.69      .55        2.03        .61       .58         1.45
   MAY          51        10.11    5.16      .87        4.49        .83       .79         3.70
   JUNE         60        10.21    6.13      .99        6.07        .76       .73         5.35
   JULY         67        10.33    6.93      .78        5.40        .62       .59         4.81
                                           SEASONAL CONSUMPTIVE IRRIGATION REQUIREMENT   15.32


                                          WHEATLAND 4N
	LATITUDE 42-07                   LONGITUDE 104-57            ELEVATION 4638

   MONTH       MEAN	 DAYTIME  FACTOR COEFFICIENT  CONSUMPTIVE  MEAN    EFFECTIVE  CONSUMPTIVE
              MONTHLY	  HOURS		                 USE      MONTHLY  RAINFALL   IRRIGATION
            TEMPERATURE						  RAINFALL            REQUIREMENT
                (T)        (P)      (F)      (K)	(CU)	    (R)      (RE)       (CU-RE)
ALFALFA
   MARCH        36         8.30    2.99      .40         .20        .65       .62          .00
   APRIL        47         8.99    4.23      .57        2.41       1.75      1.63          .79
   MAY          56        10.13    5.68      .83        4.71       2.42      2.20         2.52
   JUNE         66        10.24    6.76      .98        6.63       1.98      1.84         4.80
   JULY         73        10.35    7.56     1.02        7.71       1.25      1.18         6.54
   AUGUST       72         9.62    6.93      .93        6.45       1.05      1.00         5.45
   SEPTEMBER    62         8.40    5.21      .74        3.86       1.16      1.10         2.76
   OCTOBER      51         7.70    3.93      .49        1.93        .77       .74         1.20
   NOVEMBER     38         6.62    2.52      .34         .23        .42       .40          .13
                                           SEASONAL CONSUMPTIVE IRRIGATION REQUIREMENT   24.19
BEANS
   MAY          56        10.13    5.68      .55        2.62       2.42      2.20          .43
   JUNE         66        10.24    6.76      .93        6.29       1.98      1.84         4.46
   JULY         73        10.35    7.56      .86        6.50       1.25      1.18         5.33
   AUGUST       72         9.62    6.93      .54        3.75       1.05      1.00         2.75
                                           SEASONAL CONSUMPTIVE IRRIGATION REQUIREMENT   12.97
CORN
   APRIL        47         8.99    4.23      .42         .30       1.75      1.63          .00
   MAY          56        10.13    5.68      .52        2.95       2.42      2.20          .76
   JUNE         66        10.24    6.76      .78        5.28       1.98      1.84         3.44
   JULY         73        10.35    7.56      .97        7.33       1.25      1.18         6.16
   AUGUST       72         9.62    6.93      .97        6.72       1.05      1.00         5.73
   SEPTEMBER    62         8.40    5.21      .81        4.22       1.16      1.10         3.13
                                           SEASONAL CONSUMPTIVE IRRIGATION REQUIREMENT   19.23
GRASS, HAY, AND PASTURE
   MARCH        36         8.30    2.99      .41         .20        .65       .62          .00
   APRIL        47         8.99    4.23      .55        2.33       1.75      1.63          .70
   MAY          56        10.13    5.68      .78        4.43       2.42      2.20         2.24
   JUNE         66        10.24    6.76      .92        6.22       1.98      1.84         4.39
   JULY         73        10.35    7.56      .95        7.18       1.25      1.18         6.01
   AUGUST       72         9.62    6.93      .87        6.03       1.05      1.00         5.04
   SEPTEMBER    62         8.40    5.21      .70        3.65       1.16      1.10         2.56
   OCTOBER      51         7.70    3.93      .48        1.89        .77       .74         1.16
   NOVEMBER     38         6.62    2.52      .34         .23        .42       .40          .13
                                           SEASONAL CONSUMPTIVE IRRIGATION REQUIREMENT   22.23
POTATOES
   MAY          56        10.13    5.68      .48        1.41       2.42      2.20          .00
   JUNE         66        10.24    6.76      .68        4.60       1.98      1.84         2.77
   JULY         73        10.35    7.56      .82        6.20       1.25      1.18         5.03
   AUGUST       72         9.62    6.93      .82        5.68       1.05      1.00         4.69
   SEPTEMBER    62         8.40    5.21      .66        3.44       1.16      1.10         2.35
                                           SEASONAL CONSUMPTIVE IRRIGATION REQUIREMENT   14.84
SMALL GRAIN
   MARCH        36         8.30    2.99      .47         .68        .65       .62          .07
   APRIL        47         8.99    4.23      .68        2.88       1.75      1.63         1.25
   MAY          56        10.13    5.68      .94        5.34       2.42      2.20         3.14
   JUNE         66        10.24    6.76      .95        6.43       1.98      1.84         4.59
   JULY         73        10.35    7.56      .75        5.67       1.25      1.18         4.50
                                           SEASONAL CONSUMPTIVE IRRIGATION REQUIREMENT   13.56
SUGAR BEETS
   APRIL        47         8.99    4.23      .44        1.24       1.75      1.63          .00
   MAY          56        10.13    5.68      .57        3.24       2.42      2.20         1.04
   JUNE         66        10.24    6.76      .81        5.48       1.98      1.84         3.65
   JULY         73        10.35    7.56      .91        6.88       1.25      1.18         5.71
   AUGUST       72         9.62    6.93      .82        5.68       1.05      1.00         4.69
   SEPTEMBER    62         8.40    5.21      .62        3.23       1.16      1.10         2.14
   OCTOBER      51         7.70    3.93      .44         .56        .77       .74          .33
                                           SEASONAL CONSUMPTIVE IRRIGATION REQUIREMENT   17.56


                                          WORLAND
	LATITUDE 44-01                   LONGITUDE 107-58            ELEVATION 4061

   MONTH       MEAN	 DAYTIME  FACTOR COEFFICIENT  CONSUMPTIVE  MEAN    EFFECTIVE  CONSUMPTIVE
              MONTHLY	  HOURS		                 USE      MONTHLY  RAINFALL   IRRIGATION
            TEMPERATURE						  RAINFALL            REQUIREMENT
                (T)        (P)      (F)      (K)	(CU)	    (R)      (RE)       (CU-RE)
ALFALFA
   APRIL        46         9.05    4.17      .57        2.38        .99       .95         1.44
   MAY          56        10.25    5.74      .83        4.77       1.34      1.26         3.51
   JUNE         65        10.39    6.76      .98        6.62       1.45      1.36         5.27
   JULY         72        10.49    7.56     1.04        7.86        .74       .71         7.16
   AUGUST       69         9.71    6.70      .93        6.24        .41       .39         5.85
   SEPTEMBER    59         8.41    4.97      .74        3.68        .72       .69         2.99
   OCTOBER      47         7.64    3.60      .51        1.60        .64       .61         1.07
                                           SEASONAL CONSUMPTIVE IRRIGATION REQUIREMENT   27.29
BEANS
   MAY          56        10.25    5.74      .50        1.86       1.34      1.26          .60
   JUNE         65        10.39    6.76      .83        5.61       1.45      1.36         4.26
   JULY         72        10.49    7.56      .91        6.88        .74       .71         6.18
   AUGUST       69         9.71    6.70      .63        4.23        .41       .39         3.84
                                           SEASONAL CONSUMPTIVE IRRIGATION REQUIREMENT   14.87
CORN
   APRIL        46         9.05    4.17      .41         .06        .99       .95          .00
   MAY          56        10.25    5.74      .49        2.82       1.34      1.26         1.56
   JUNE         65        10.39    6.76      .74        5.00       1.45      1.36         3.65
   JULY         72        10.49    7.56      .96        7.26        .74       .71         6.55
   AUGUST       69         9.71    6.70      .98        6.57        .41       .39         6.18
   SEPTEMBER    59         8.41    4.97      .80        3.97        .72       .69         3.29
                                           SEASONAL CONSUMPTIVE IRRIGATION REQUIREMENT   21.24
GRASS, HAY, AND PASTURE
   APRIL        46         9.05    4.17      .55        2.29        .99       .95         1.35
   MAY          56        10.25    5.74      .78        4.48       1.34      1.26         3.23
   JUNE         65        10.39    6.76      .92        6.22       1.45      1.36         4.86
   JULY         72        10.49    7.56      .95        7.18        .74       .71         6.48
   AUGUST       69         9.71    6.70      .87        5.83        .41       .39         5.44
   SEPTEMBER    59         8.41    4.97      .70        3.48        .72       .69         2.79
   OCTOBER      47         7.64    3.60      .49        1.54        .64       .61         1.01
                                           SEASONAL CONSUMPTIVE IRRIGATION REQUIREMENT   25.17
POTATOES
   MAY          56        10.25    5.74      .46         .94       1.34      1.26          .00
   JUNE         65        10.39    6.76      .66        4.46       1.45      1.36         3.11
   JULY         72        10.49    7.56      .80        6.05        .74       .71         5.34
   AUGUST       69         9.71    6.70      .83        5.57        .41       .39         5.18
   SEPTEMBER    59         8.41    4.97      .69        3.43        .72       .69         2.74
                                           SEASONAL CONSUMPTIVE IRRIGATION REQUIREMENT   16.38
SMALL GRAIN
   MARCH        33         8.29    2.74      .45         .40        .37       .36          .05
   APRIL        46         9.05    4.17      .64        2.67        .99       .95         1.73
   MAY          56        10.25    5.74      .92        5.29       1.34      1.26         4.03
   JUNE         65        10.39    6.76      .95        6.42       1.45      1.36         5.07
   JULY         72        10.49    7.56      .70        5.29        .74       .71         4.59
                                           SEASONAL CONSUMPTIVE IRRIGATION REQUIREMENT   15.47
SUGAR BEETS
   APRIL        46         9.05    4.17      .42         .88        .99       .95          .00
   MAY          56        10.25    5.74      .54        3.10       1.34      1.26         1.85
   JUNE         65        10.39    6.76      .80        5.41       1.45      1.36         4.05
   JULY         72        10.49    7.56      .91        6.88        .74       .71         6.18
   AUGUST       69         9.71    6.70      .84        5.63        .41       .39         5.24
   SEPTEMBER    59         8.41    4.97      .64        3.18        .72       .69         2.50
   OCTOBER      47         7.64    3.60      .47         .55        .64       .61          .35
                                           SEASONAL CONSUMPTIVE IRRIGATION REQUIREMENT   20.18



---
WRS-19 Table of Contents
Water Resources Series List
Water Resources Data System Library | Water Resources Data System Homepage
---